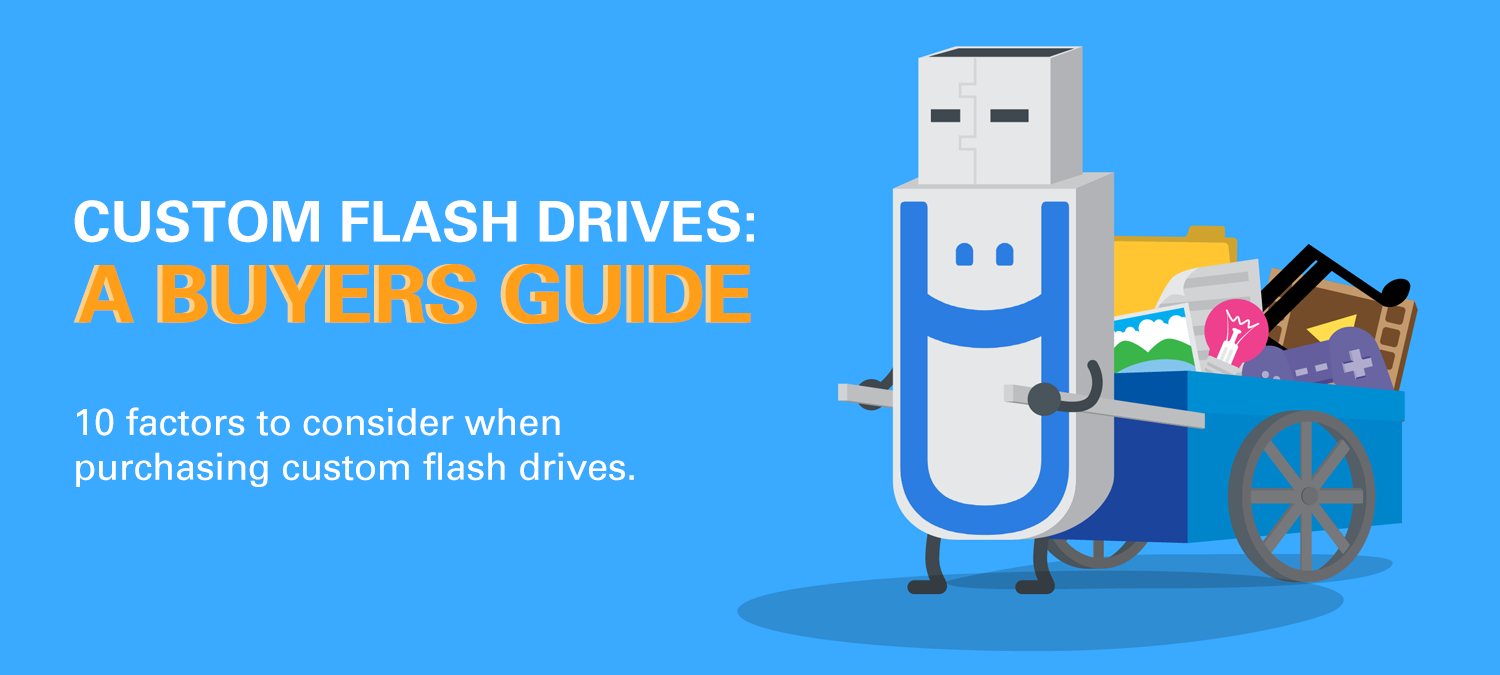 10 Factors to Consider When Buying Branded USB Flash Drives
Promotional USB Flash drives are an incredibly versatile marketing tool due to the seemingly infinite varieties of shapes, capacities, and formats. To a first time buyer, this can seem a bit overwhelming. Today we'll simplify the process by breaking down the most important factors to consider when purchasing your custom flash drives.
1. Memory Quality
Not all custom flash drives are created equal. This is especially true with regard to the memory chips that power your USBs. As the central component of your flash drives, ensuring your USBs are equipped with high-quality flash memory is the most important factor when purchasing.
Unfortunately, there are some bad actors in the memory market that supply low quality and even recycled memory chips. Typically these are used in cheap bulk order flash drives you may find on sites like Amazon or Alibaba. In the unfortunate case that you are sold drives with low-quality memory, the best scenario is your USBs read and write speeds suffer and their shelf life is greatly reduced. More likely, however, is that some or all of the drives will quickly become corrupted and cease to function.
The easiest way to verify a prospective supplier is providing new, tier 1 memory is to confirm their chips were produced by a reputable manufacturer such as Samsung, SanDisk, Intel, or Micron.
2. Storage Capacity
Custom flash drives are available in a range of capacities, typically from 64MB to 128GB. Because your cost per drive will increase along with the storage capacity it's important to understand the amount of memory required for your project. To give a better idea of how much data a particular drive can hold we've created this table based on the average file sizes of various media types.
| | 512MB | 1GB | 2GB | 4GB | 8GB |
| --- | --- | --- | --- | --- | --- |
| PDF | 1,200 | 2,400 | 4,800 | 9,600 | 19,200 |
| MP3 | 100 | 200 | 400 | 800 | 1,600 |
| JPG | 75 | 150 | 300 | 600 | 1,200 |
| Video | 35 | 70 | 140 | 280 | 560 |
Note: This table assumes averages of 1MB per PDF, 2MB per photo, 4MB per MP3, & 500MB per video.
If your drives will be used exclusively as a promotional handout we usually recommend opting for at least 2GB in order for the recipient to have enough storage space to use the drives for an extended period of time. However, it's important to note that the larger a drive the higher its perceived value and the more likely a recipient will be to keep it around longer; allowing for more brand impressions. For more info on this topic, check out our blog on flash drive sizes!
3. Chip Format
While there are other USB chip formats available, the majority of custom flash drives are offered in USB 2.0 and USB 3.0. These two generations of USB's can each be broken down further into SLC, MLC, and TLC, which we covered in a previous post.
We won't bore you with the technical nitty-gritty, but the main takeaway is that USB 3.0 offers increased speed and reliability. While USB 2.0 is usually fine for simple projects using smaller capacity drives, we start recommending upgrades to USB 3.0 for any drives 8GB or larger. USB 3.0 drives become especially important if you plan on loading large or multiple files.
4. Connector Options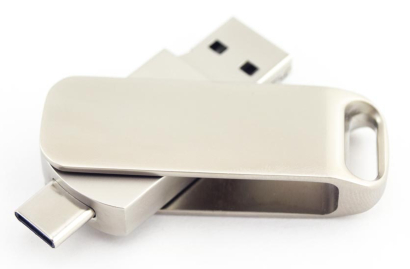 The world has started its transition to USB-C connectors. As shown by the increasing number of laptops opting to drop the standard USB ports altogether, including the ever-popular MacBook.
While most people likely still own devices wielding the o.g. USB ports, it's definitely worth considering if a dual-headed USB-C and USB-A style drive might be optimal for your project.
5. Drive Styles
Once you've got the technical side of things figured out it's time to move onto the exterior of your drives. Starting with the style of your custom flash drives encasement. The primary points of consideration here are:
Style - Does this drive match my branding?
Print Area - If you have a large image or lots of text to be printed you're going to need drives with a sizeable print area.
Price - While styles like the USB Pens and Lanyards are fun options they also come with a higher price point than something more standard.
6. Branding Options
The print methods typically available for custom flash drives are printing (screen or digital), laser engraving, and heat stamping. When choosing a print method it is important to stay within your brand guidelines.
We've given a short summary of pros and cons of each option below. Find a more extensive breakdown of each of these methods on our Print Services page.
7. Data Services
USB drive data services should be available through any reputable supplier. These services save time and resources for the client by making sure the drives arrive ready to distribute with all technical specifications met. Some common data services and descriptions are listed below, however, for a more complete catalog check out our Data Services Page.
8. Packaging
Promotional USB packaging can act as a great medium for your branded flash drives. Both dressing up the initial presentation and adding a layer of protection while in transit.
When selecting packaging you'll want to go with a case that complements the style of your chosen drives. Keeping materials consistent is always a smart move i.e. wood drives with wood boxes, metal with metal, etc.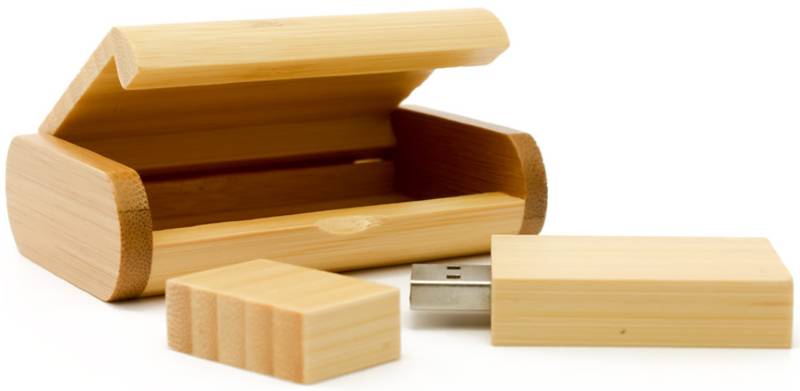 9. Price
Like with most products, the price will vary between suppliers. Once you have a general idea of what you're looking for, get quotes from a few different vendors. If you're particularly interested in one but their prices seem to be on the higher end don't be afraid to ask if they will match, or beat, a competitor's quote.
It should also be noted that most custom flash drive vendors operate on a sliding scale, i.e. the more drives you purchase the cheaper the cost per unit. Lastly, be sure to look out for hidden costs like setup fees, or inflated shipping charges.
10. Warranty
So you've done your research, selected a seemingly reputable vendor, and designed the perfect drive inside and out. But before you place that order make sure you are being offered a reasonable warranty.
You've put time and effort into this project and it's important to make sure your back is covered should any of the drives malfunction. If your supplier is offering a short, or worse, no warranty there's a good chance it's because they know their drives weren't built to last.
TL;DR
While we would highly recommend you read our entire post as many of the finer details are important (or we wouldn't have included them). Here's the gist of the article for those without time to spare.
Memory Quality - Make sure your supplier's memory is sourced from a reliable vendor (Samsung, SanDisk, Intel, Micron).
Storage Capacity - Understand what is needed for your project and shop accordingly.
Chip Format - USB 3.0 is recommended for drives 8gb and up.
Connector Options - Is USB-C more appropriate for your target audience?
Drive Style - Make sure to stay consistent with your brand and on budget.
Branding Options - Consider the pros and cons of each option, follow brand guidelines.
Data Services - Many reputable suppliers can have data preloaded to your drives at no extra cost.
Packaging - Both dresses up your presentation and protects your drives in transit.
Price - Compare quotes, ask about price matching.
Warranty - Any reputable vendor should provide a long-term or lifetime warranty.
Get flash drives with your company logo!