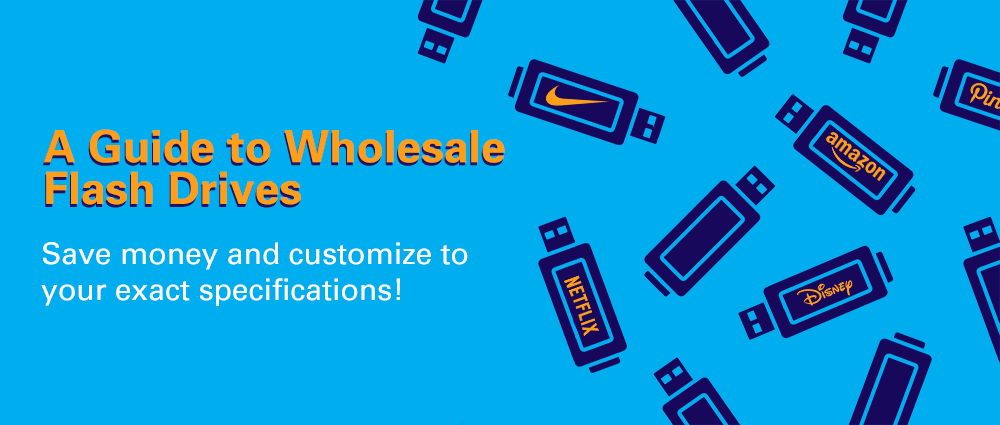 Buying Bulk Flash Drives With Your Logo
Branded USB drives have proven themselves time and again to be one of the most useful, versatile, and successful tools in the promotional products industry.
Purchasing these customizable storage devices directly from a manufacturer allows for numerous benefits third-party retailers aren't able to provide. When buying in bulk, these benefits become even more valuable.
Wholesale Printed Flash Drives
At USB Memory Direct, manufacturing personalized USB flash drives is our specialty. We regularly work with large clients directly to cut out the middle man and provide high-quality, custom products at wholesale prices.
Whether you're buying from us or another vendor, we've compiled this guide to give you the knowledge you need to make an informed purchasing decision and complete your project successfully.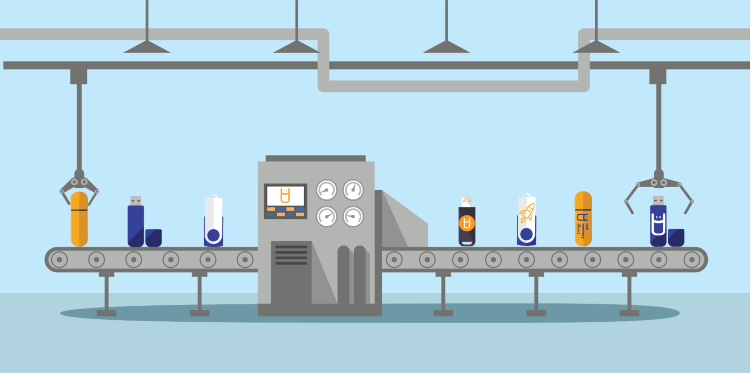 What Comes Standard with Wholesale USB Drives?
Ourselves and a majority of reputable manufacturers will offer some base services complimentary with bulk flash drive purchases, including:
Free printing of your company logo or other designs you may want to be branded on both or either side of your flash drives.
Zero set-up fees along with complimentary virtual samples of your logo featured on your flash drives of choice.
Complimentary shipping to the US and Canada. Rush orders will usually incur some extra fees.
Lifetime warranty for any drive that fails under normal use circumstances.
Complimentary data services in case your project requires large amounts of flash drives to be distributed with data preloaded to them or other technical specifications.
Make sure you understand all the complimentary serves provided by your chosen wholesale flash drives supplier to ensure you can take full advantage of their services and not incur any unexpected fees.
Minimum Order Quantities for Bulk USB Drives
As with most promotional products, customized flash drives often have minimum order quantities (MOQ's), meaning you are required to purchase a minimum amount. This is especially true when dealing with direct from manufacturer suppliers.
If you're looking to purchase smaller amounts this can seem like a negative, however to a purchaser interested in bulk quantities this can be looked at as a sign that the retailer primarily deals with larger orders.
The MOQ on any of our 55 standard styles of USB flash drives is 20 units. This is about the industry standard, though there are suppliers more focused on handling smaller orders who offer no MOQ's at all.
If you are looking to create something especially unique there are usually additional MOQ's that pop-up. For instance, if you were interested in our best-selling wooden USB, the Tower, in black instead of one of the standard color options listed on its product page, the MOQ would jump from 20 to 50 units.
Most wholesale USB flash drive suppliers are also able to create completely custom-shaped flash drives should your project call for it. These are an incredible marketing tool due to their novelty which gives the USBs a higher perceived value, positively reflecting on your organization.
However, as I'm sure you've already assumed, creating a custom-shaped flash drive comes with a higher MOQ. Our minimum is 100 units for a custom shape. As far as we can tell, this seems to be the starting point for all major vendors in the space.
Wholesale Flash Drive Price Tiers
When purchasing in bulk, custom flash drives are priced in tiers with price breaks at predetermined amounts. Most manufacturers refer to this tiered pricing simply as "bulk discounts" or "wholesale pricing."
Though they may vary slightly from vendor to vendor price breaks are at usually at quantities of:
25 | 50 | 100 | 250 | 500 | 1,000 | 2,500 | 5,000 | 10,000 | 25,000 | 50,000 | 100,000
As the quantities get higher and margins become slimmer the price breaks become a smaller percent of the cost per drive.
For example, the pricing difference between the 25-49 and 50-99 tiers is about 23%, quite a substantial difference in per drive cost. However, the difference in price per individual drive between the 20,000-49,999 and 50,000-99,999 tiers is only about 1.6%.
It should be noted that even though 1.6% seems minuscule when you're dealing with such large quantities it can mean a difference of thousands of dollars.
That said, when purchasing USB flash drives in bulk, it may make sense to slightly increase your order amount to hit one of these price breaks. Often times your entire order may end up being less expensive by ordering a larger amount of drives for a lower per drive cost.
Data Preloading for Bulk Flash Drives
If you're purchasing a substantial amount of customized flash drives, and plan to distribute them with data loaded onto each drive it will be crucial to verify that your supplier can provide data preloading.
Whether you're thinking just a simple pdf of your product catalog or large video files, loading hundreds or thousands of flash drives one by one will be a grueling task your team likely won't have the time or resources for.
Luckily any competent manufacturer should have the capability to preload large amounts of flash drives simultaneously.
Beyond standard data preloading, many manufacturers can also provide more extensive data services to customize your drives from the inside out. Some other data services that may be helpful for your project are:
We offer the first GB of preloaded data completely free and a majority of our other data services are also complimentary.
Check the Warranty
Purchasing anything in bulk usually means you and/or your company is getting ready to spend a nice chunk of change. Make sure your supplier is offering a satisfactory warranty on your custom flash drives.
Without tooting our own horn too much, we offer a lifetime warranty as a standard with all orders regardless of size. The industry standard, however, is a 10-year warranty which is still pretty solid.
The market for the flash memory that powers USBs is extremely complex and dynamic. It's not uncommon for manufacturers to purchase lower quality or even recycled memory chips in an effort to cut corners and save a few bucks.
Offering a robust warranty shows that a wholesaler is willing to stand by their product and risk having to come out of pocket to replace the order. Not to mention, it covers your butt in the case that anything does go wrong with the USB drives.
To Sum It All Up
Manufacturers are always going to have a leg up on retailers when it comes to pricing, especially for bulk orders. They're used to dealing with larger quantities and smaller margins. Cutting out the middle man leaves more money on the table for you and your vendor.
A manufacturer is also likely to have more customization options available for your flash drives, both inside and out. After all, they're the ones making your unique USBs. However, before you start letting your mind run wild with all the possibilities, make sure you understand your vendor's pricing structure and MOQ's.
Finally, be sure you check the warranty of your chosen supplier before submitting your order. The last thing you want is to be distributing non-functional flash drives with your companies logo branded on the front.
Get flash drives with your company logo!