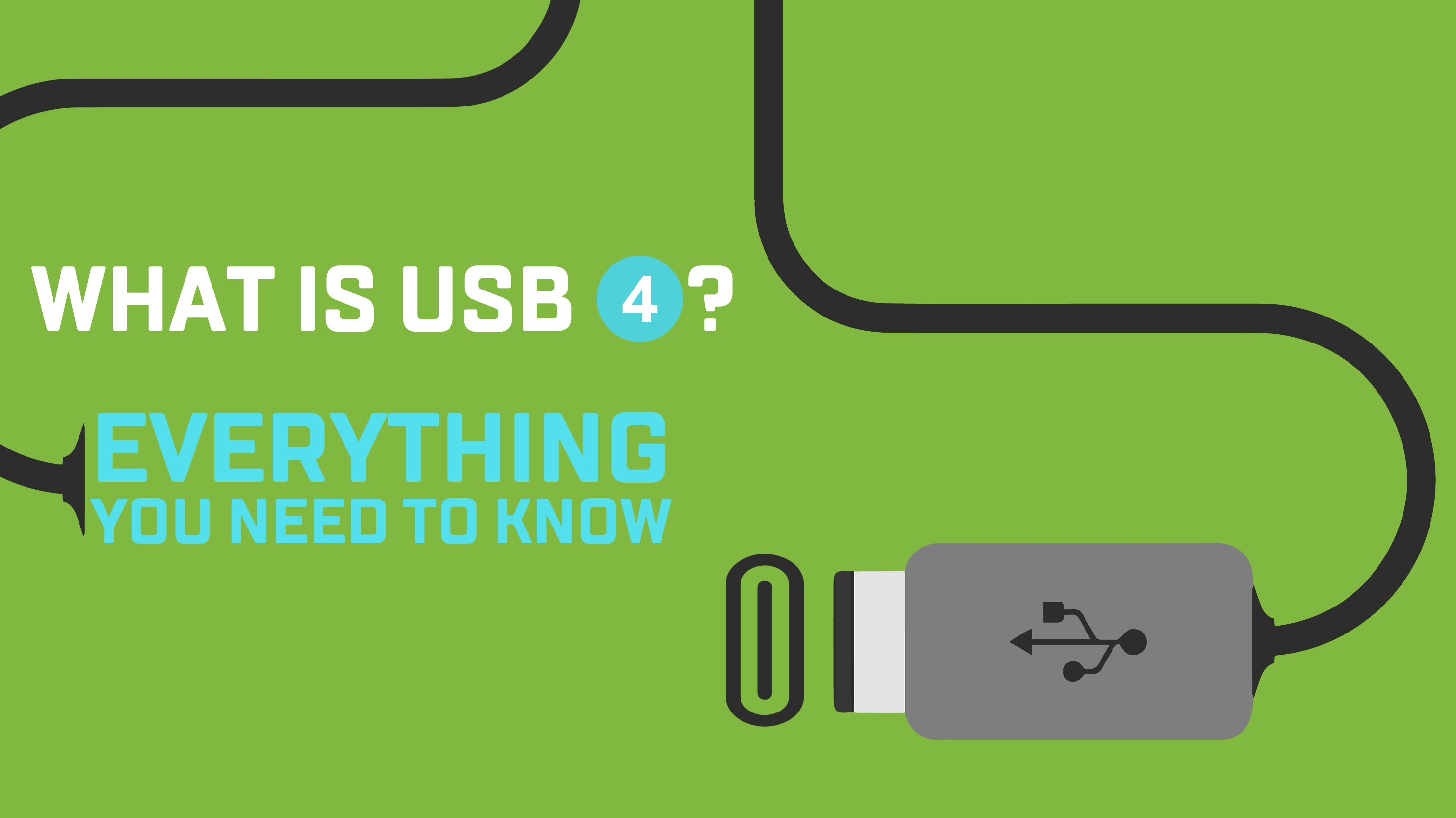 What Is USB4? Everything You Need To Know
Every few years, the next generation of tech devices revolutionizes how people interact with electronics. USB4 is the latest upgrade to fit this trend. USB4 augments the speed at which data and power move between units. This upgraded transfer rate is standardized across all cords and slots with the USB4 specification.
USB4 Specifications
USB4 devices build upon the foundation established by USB 2.0 and USB 3.2 while doubling the bandwidth allocation of those previous models. In addition to the doubled resources, USB4 supports multiple simultaneous display and data protocols. This means that USB4-certified cables can transfer data at 40 Gbps between devices.
USB4 extends the life of the USB-C format since it remains compatible with the common architecture already in place. Using two-lane operation, USB-C connections are even faster, thanks to all that additional bandwidth. The new format is also backward compatible with USB 3.2, USB 2.0, and Thunderbolt connections. This universal specification ensures all your devices will remain compatible for years to come.
Need USB-C Memory Sticks? Get Them Here
In addition to the maxed-out 40-Gbps cables, the USB4 standard allows for 20 Gbps connections for less resource-intensive devices. For example, most smartphone and laptop models will use the 20 Gbps connection type since users are less likely to transfer massive files on these portable machines. Worry not, as 20 Gbps is still an impressive upgrade from older formats.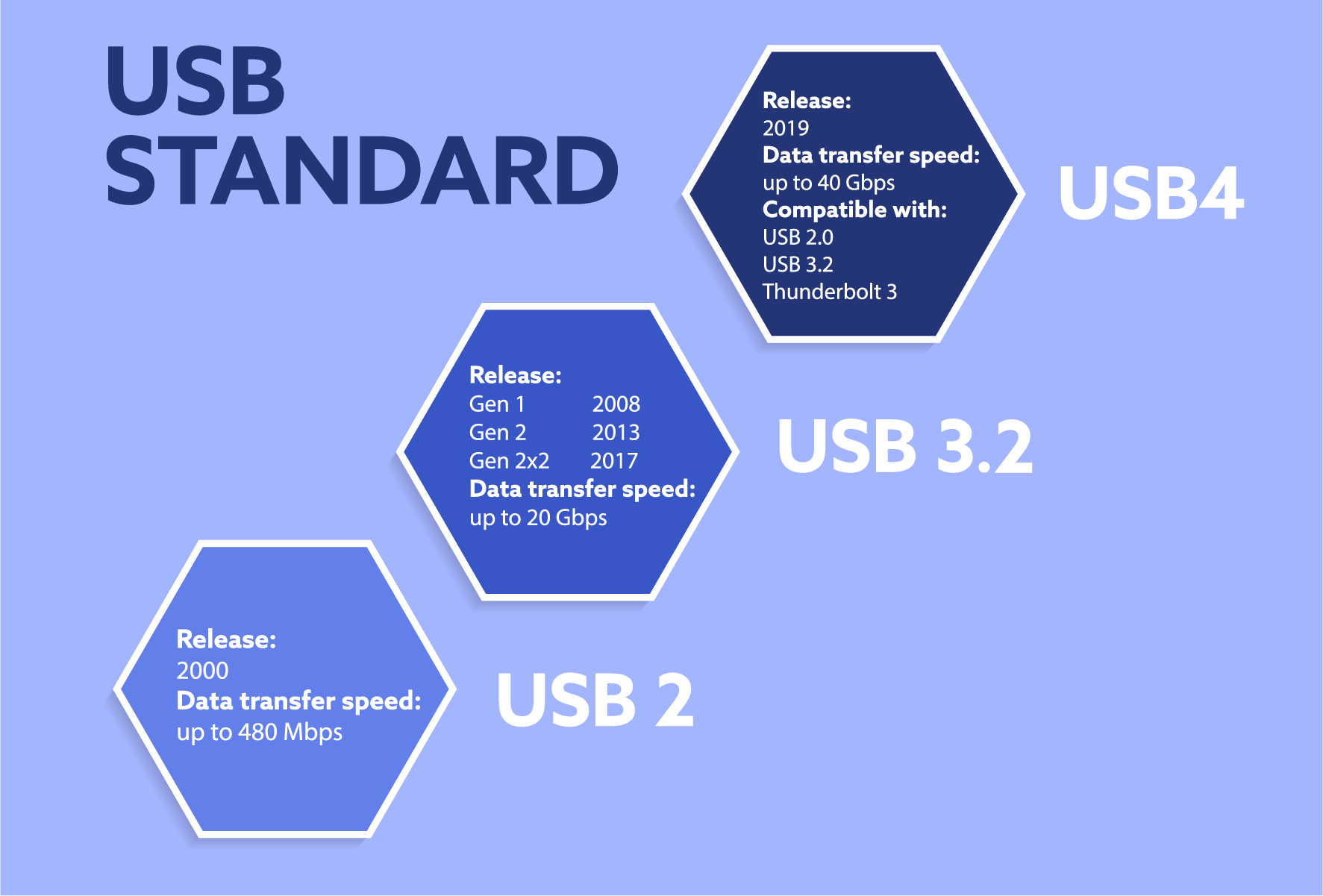 What Is USB4 Used For?
The primary use for the latest format is professional workstations in which terabytes of data must be moved between machines. However, this does not mean you need to work in a large corporate office to take advantage of the new standard. It's compatible with newer issue MacBooks, for example. While there are currently only a few devices capable of facilitating the USB4 standard, you can expect the number of USB4 devices to increase exponentially as manufacturers design their next generations of products.
Another significant benefit of USB4 technology is that it allows you to enjoy 8K video output at 60FPS with HDR10 support. Prior USB versions were unable to transfer enough data for such high-definition graphics. This is achieved through the use of DisplayPort 2.0 technology that takes advantage of the doubled bandwidth allocation. PCle channels can efficiently sort through the data and optimize the connection based on the specific apps you're using or videos you're watching.
The next time you need to replace a USB connector or piece of hardware, you can future-proof your purchase for several additional years with a fresh USB4 connection. Wondering about the usefulness of USB-A vs. USB-C? Since USB4 is backward compatible with previous USB versions, you can continue using your existing devices without disruption. Searching specifically for USB4-compatible devices when shopping at USB Memory Direct will uncover the available options.
USB-A vs. USB-C: What's the Difference?
The Pros and Cons at a Glance
Pros
The benefits of the new format are pretty clear. The faster transfer speeds and increased DisplayPort 2.0 compatibility improve performance all around. With USB4, you get the following:
Transfer speeds of 40 Gbps and 20 Gbps.
Support for 8K 60FPS video with HDR10.
Backward compatibility with previous USB versions and Thunderbolt devices.
Cons
As with any innovative technology, the USB4 standard is not perfect. Here are a few things to consider before replacing all your existing cables.
Only a handful of devices currently can utilize the full 40 Gbps transfer speed.
USB4 costs more than older USB formats.
It requires a Type-C connector.
Get More With USB Memory Direct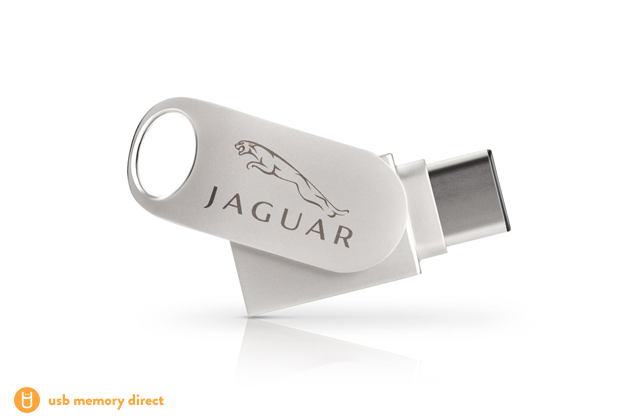 When shopping for your next USB device, look no further than USB Memory Direct. In addition to our high quality and low prices, each purchase qualifies for a lifetime warranty. We also provide lots of tech tips and tricks on our blogs, such as how to clean USB-C ports. If you desire something more specific, we have numerous customization options for both external decoration and internal utility. You get all of that on top of free shipping to the United States and Canada.