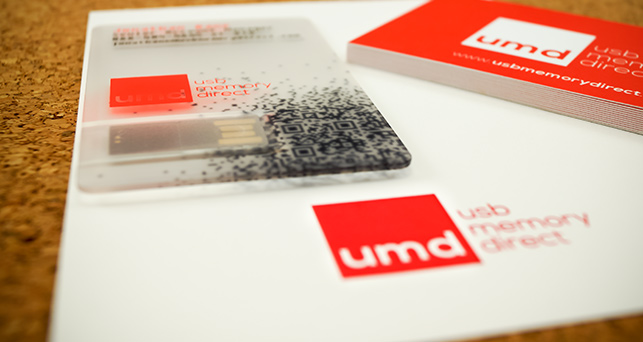 How we Tripled our Leads with USB Business Cards Drives
In 2015 our team went to EXHIBITORLIVE, an annual expo for trade show exhibitors, event managers and marketers. We managed to acquire 320 highly qualified leads over the course of just three days, which has generated over $500,000 in sales for us within less than 1 year.
Here's how we did it using USB business cards.
Grab a cup of coffee and get comfy, we'll get right into it!
PREPPING FOR THE EVENT
Two years ago we decided to attend our first trade show. Since we had no prior experience, we needed to attend an event that would suite our needs and give us the highest probability of success.
For us, this meant event managers and trade show exhibitors. These individuals are specifically in charge of prepping booths, often spending 200 days out of the year at trade shows and corporate events. Flash drives fit perfectly into this business model, serving as both a creative giveaway product and a resource for uploading relevant digital marketing materials.
Through our research we discovered EXHIBITORLIVE, an annual expo that gathered thousands of the biggest players in event management and trade show exhibition.
Attendees come to this event to find all of their booth needs. There's lighting, audio/visual equipment, exhibit graphics and signage, furniture rental, portable displays, computer rentals, flooring, among a number of other products and services.
Not only that, but they are consistently ranked one of the top ten buying shows in America. They have over 3000 qualified decision-makers at the event, and around 61% of attendees spend money on something they see at the event. On top of that, 96% have the power to make purchasing decisions for their companies and come with an average of $1,300,000 in annual budget for trade show and corporate event products and services. 84% of attendees do not go to any other related meeting or event for the year, which means all of their buying for trade show equipment and supplies would get done right here.
To our surprise, the expo rep we spoke with mentioned we would be the only USB wholesaler attending the event. They had a few other general promotional product companies, and some that specialized in custom t-shirts, but nothing related to our industry. In fact this was the first time she had ever heard of a company that strictly focused on custom USB drives.
So despite going to an event where we had to go up against hundreds of other trade show supplies and services, we offered something completely unique! We were the only company going to the trade show that specialized in custom printed flash drives and custom shaped flash drives. So we very confident that this event would be a huge success for us.
Our rep sent us the details for our booth, and we wrapped everything up that same week.
Since it was our first trade show, we really wanted to come prepared. Go big or go home right?
We collected up a number of our most popular USB styles, including the most interesting and unique custom shaped flash drives we've done in the past. We even highlighted some USB drives we did with more high profile Fortune 500 companies. We also had custom tri-fold pamphlets, t-shirts, tote bags, regular printed business cards, our popular SWM flash drives, LED monitors with a slide show of our products, and finally our USB business cards.
Take a look at what we designed for the expo: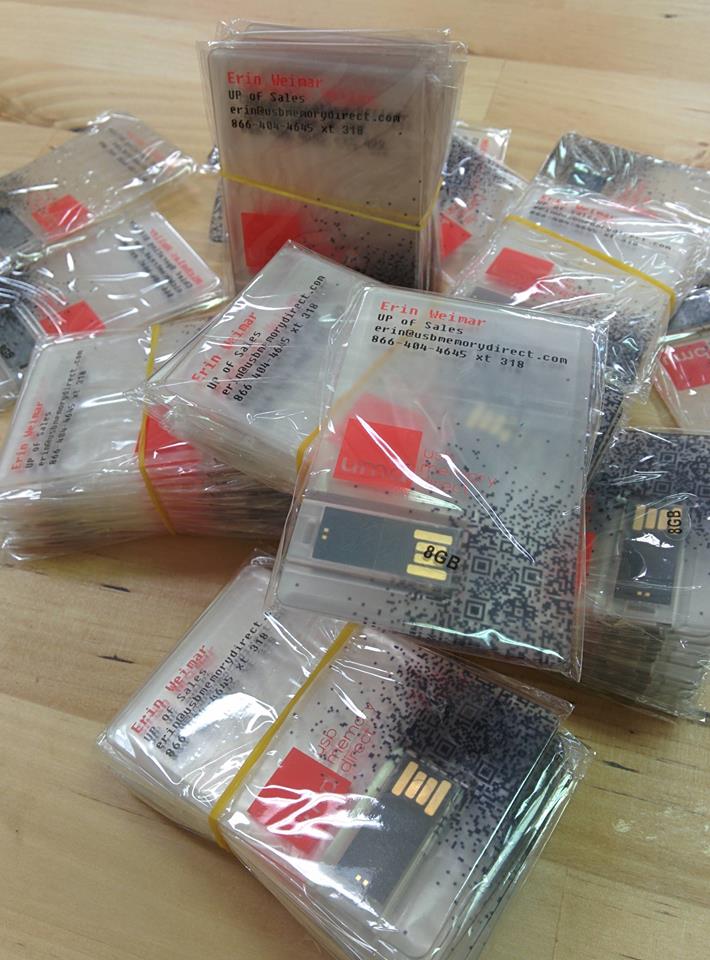 We really wanted to show our most creative ideas to people we spoke with at the event. Our USB business cards really showcased that for us in a way that people could relate to, so they were definitely one of our first choices. We also pre-loaded content onto the flash drives themselves, like brochures and custom drive icons. These data presentations on the card allowed us to re-engage our leads and have them learn more about our company.
Like other business cards, we were also able to print our email addresses and contact info right onto the USB business cards, which allowed us develop more of a personal client relationship with our leads.
From there we prepped our other booth materials, and picked out our team. We're a pretty small company (staff-wise), so we had our VP, sales manager, marketing director, and one of our top sales reps head out to the event in Las Vegas, Nevada.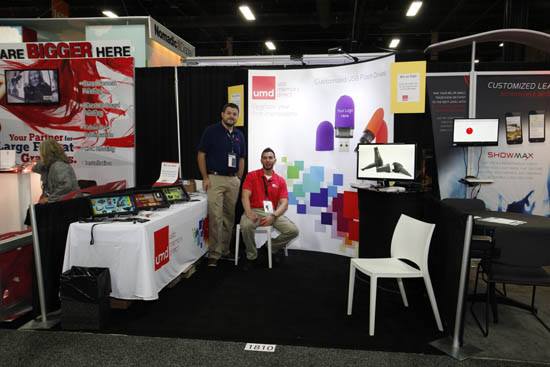 HOW DID IT GO?
Our first two hours at the event went pretty bad. There were a handful of half-interested people that stopped by our booth and talked to us, but most people just ignored us. We did have three really enthusiastic people that came by as well, but 5 minutes into those conversations, we realized they really wanted to just pitch us their own products.
At first, our approach was to open up a conversation. As people passed by our booth, we tried to flag them down by introducing ourselves or asking them about their company. We had to work really hard to get anyone to give us 10 seconds of their time.
Most of that first morning we had "sorry not interested" from a bunch of people who were barely listening to what we were saying. It was like we were those petition people in front of a courthouse, barely getting out a sentence before getting waved off.
It made sense.
Since there were so many trade show suppliers at the event, I'm sure people were pretty tired of hearing and seeing the same stuff over and over again. After all, how many tote bags and pens do you really need? We were trying to having the exact same conversation people had just 5 minutes ago at the previous booth, and the booth before that.
We did talk to a few people who gave us a little of their time. But you could tell by the look on their faces that they really didn't want to be there and were just trying to be polite. They only stuck around because we wouldn't let up with our questions.
Once we learned who they were and a little bit more about their company, we would ask about why they attended the event, where they had been, and details of their marketing & sales process. Somewhere in there we would find a solid connection between their business and our products, hopefully landing them as a strong future lead.
To keep track of our progress and qualified leads, each attendee and exhibitor at the event had an identification badge with a bar code on it. Everyone downloaded the event app onto their phones and if they scanned the bar code with the app, we'd get their contact information. Anytime we were able to scan someone's identification badge, we counted this as a lead.
Unfortunately, that first morning we rarely got to that point. Some time during our conversation we'd be cut off and they'd go on their way. Most people stopped being polite after a while and didn't respond when we talked to them. We tried giving out our more inexpensive swag, but that got no attention at all.
Nobody wants a brochure or a tote bag anymore. There was just no interest.
We knew if people just took the time to really soak in what we had to offer, it would make sense for their business, but no matter what we did we weren't getting through to them.
There was a huge wall we couldn't climb!
HERE'S WHAT WE DID TO GET MOVING:
We had 500 USB business cards, and at the pace we were going we'd probably get through 25 for that first day. So we regrouped and thought about how we could change up our strategy. There were different openers we could have tried, getting people to enter a raffle for a free iPad, and some other stuff, but we were missing our most important resource. It's what we were all about.
Our VP Nicolas Moller mentioned,
"We made these flash drives just for this event, so how about we try handing them out to people? No strings attached."
So rather than trying to gain someone's interest with a witty conversation starter, he went up to the next person that walked by and opened up with,
"Hi would you like a USB business card?"
...and almost immediately we saw a change.
"What?"
This was our most popular response. It's like nobody knew they existed. Everyone did double-take and asked us more about what they were. We even tried this method with our other flash drives, but for some reason the combination of a flash drive and a business card got the most attention. It was really fun to see people stop in their tracks and have their whole "not interested" demeanor change when we mentioned this product.
They were made for conversation starters and elevator pitches. From the moment people asked us about it, we were able to quickly talk about USB business cards for the next few minutes. Almost everyone felt the need to return the favor as well, so we were able to ask more about their own businesses, invite them over to our booth, and gain a great lead.
It worked over and over again and we tripled our leads per hour.
At any given time we had around 20 people at our booth. We started talking to groups and all kinds of businesses. There was one guy would asked if he could invite his marketing director and sales manager over to get a sample as well. We even had people want to place an order right there on the spot! Once we broke the ice, we learned about a ton of different companies and how they operated.
Making the connection between our product and their company was incredibly simple now, because we didn't have to do anything! Most people made that connection for us. We did a complete 180 and had a great time!
RESULTS OF OUR WORK
Here's a breakdown of how the three days went: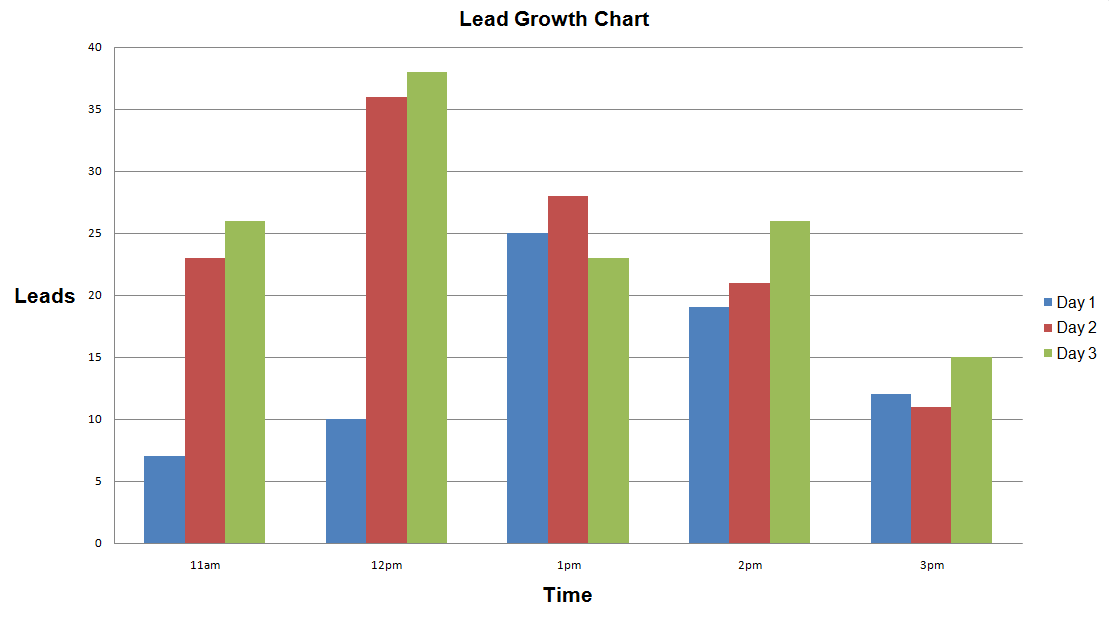 Total: 320
We hit $500K in revenue from the event this October, and have about 115 repeat clients from the event.
The best part?
Most of these leads we didn't have to follow up with. Our first day back in the office from the event, we were sitting with inboxes full of order requests and people we had spoken with asking for more information. It was truly a rewarding experience for us.
We think we can double that at our next event using this approach.
Perhaps it's one of the benefits of being a small company, but we dealt with our leads directly. We had conversations with them after the event, which lead to closing more business deals.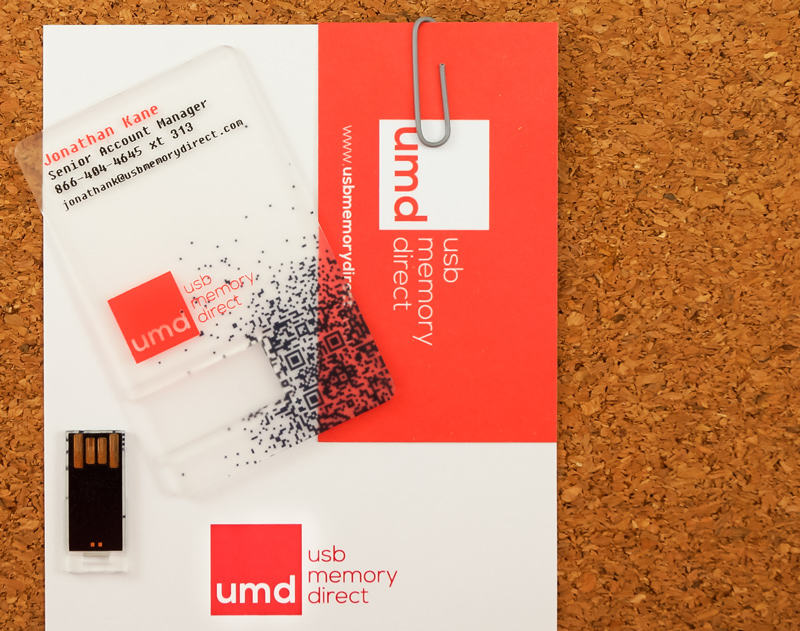 A flash drive is, after all, first and foremost a storage device.
So we could also take advantage of increased impressions over time, considering that the leads would use the drives themselves for their own personal use too. Perhaps they'd also give them to coworkers, relatives, and friends, which in turn would also increase our exposure. We were able to back this up with a continued increase in referral traffic for the month of March, directly after the event.

"In the U.S., 91% keep USB drives because they are useful." - Advertising Specialty Institute.
Check out some more interesting info on flash drives from ASI below.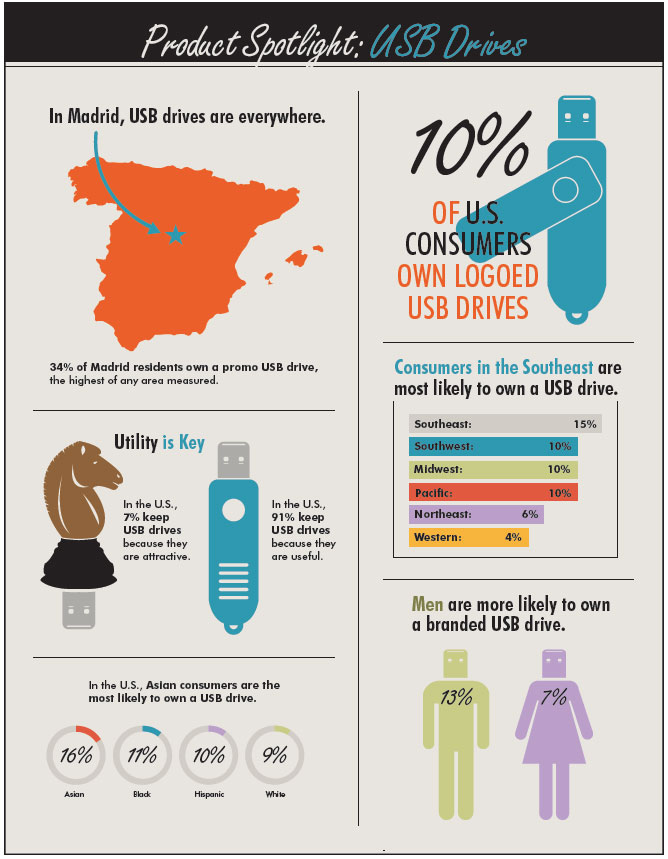 TAKEAWAY FROM ALL THIS
We know first hand how tough making an impression can be. We worked really hard prepping our materials for our first trade show appearance, and we can honestly say if it wasn't for our USB business cards, we never would have had gotten that many leads.
Since then, we've sat with our sales team and educated them about our findings. This way, when you contact us in the future and you're attending a trade show for the first time, or you're looking for something different and effective, we'll always recommend USB business cards first!