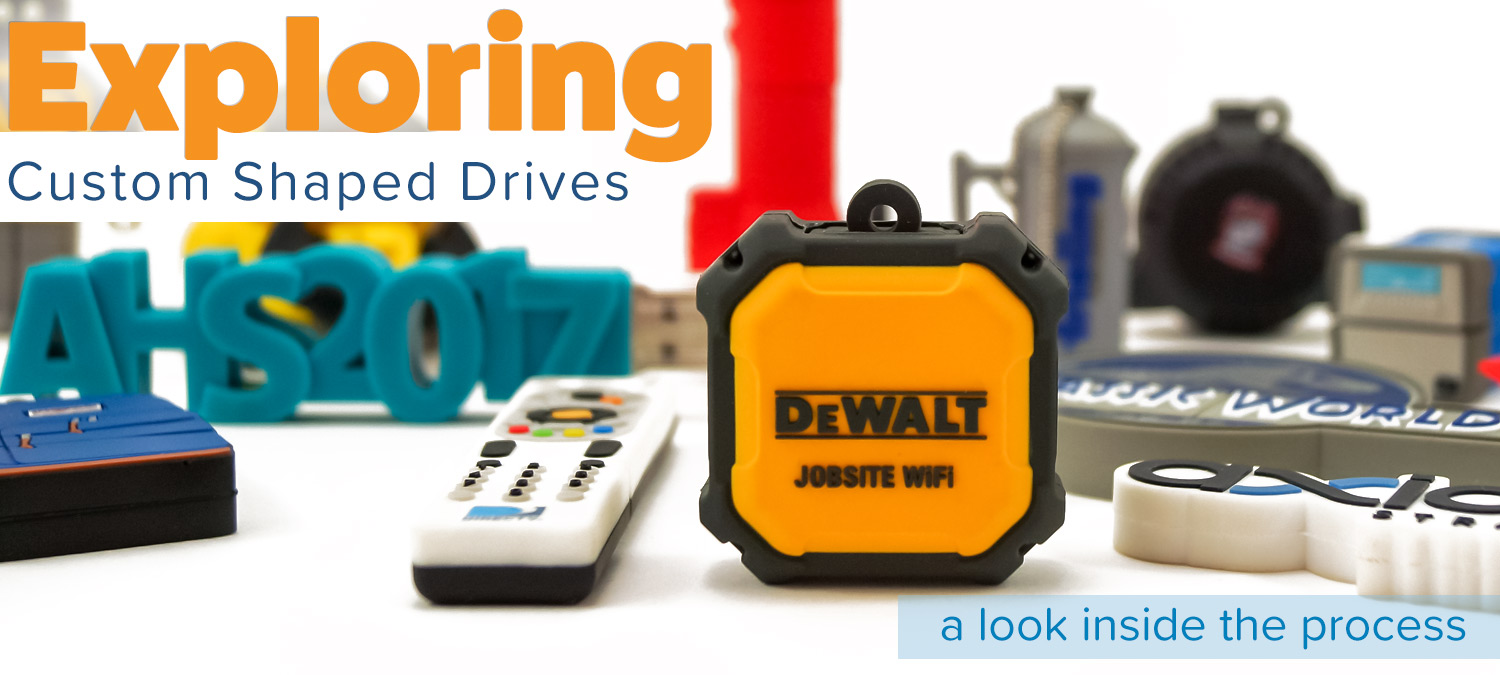 Exploring Custom Shaped Flash Drives: A Look Inside the Process
Custom shaped flash drives are one of the most popular USBs on the market. While classic flash drives are very customizable, many consumers enjoy the ability to bring their design to life through a custom shaped flash drive. It doesn't get any better than a 3D shape that actually represents your brand in any design of your choice. Though we have a variety of custom shapes on our portfolio page, we have never really talked about the process that takes place to create them. Of course, we would love to say that all you have to do is send us a design and we use our magical flash drive powers to make it appear, but that only happens in fairy tales. In reality, there is actually a lot of important steps that take place before your custom shaped flash drives arrive at your door.
Pre-Development
When a client comes to us with their idea, there are a few answers we need before we can start production. Let's say you as the customer orders a custom shaped flash drive. You specifically know you want to have your business mascot turned into a promotional USB that you can hand out at events. That's when we will request a sample image of what you want us to create.
Once we have the image in hand, we send it over to our art department to look over. From there they take the image sample and sketch out what it will look like as a 3D flash drive. Their sample model will include specifications showing the exact colors to be used, along with front and side views of the USB. This model is then sent back to you for your approval. If there is something you want us to fix or don't like about the model, this information is delivered back to the art department until the sample image is perfected. After we get your approval, we can move the process forward and start to create the physical product. Don't worry; we always make sure that you have a final say in the look of the actual 3D flash drive before we create an army of them.
Product Manufacturing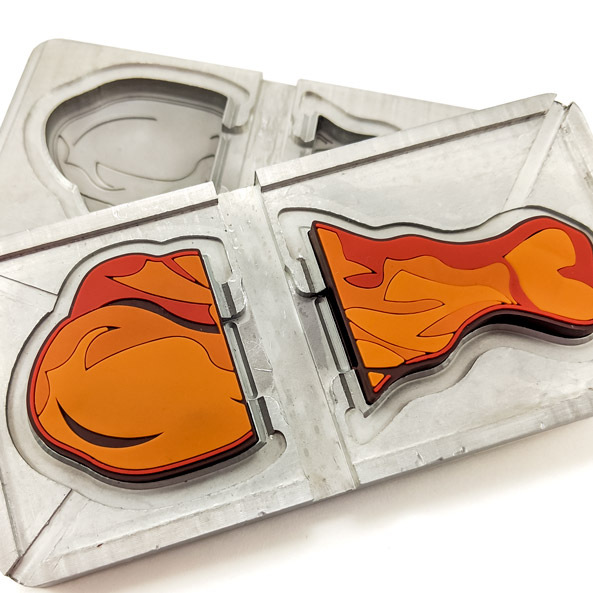 It all starts with a mold. What's a mold you might ask? It's actually the template that makes your image come to USB life. Without the mold, we wouldn't be able to design something so small with so much detail. The mold consists of a metal slab that is then intricately cut with a tiny blade to match the shape of your design.
For some custom shapes, more than one mold has to be made. This way every piece of the drive perfectly matches the design you gave us. For example, a custom shape we made for Duff Norton, an air motor jack company, required 4-5 different molds because of how many detailed parts it has. Between wheels, handles, and the body of the motor jack, it took a bit more than one case to replicate their product.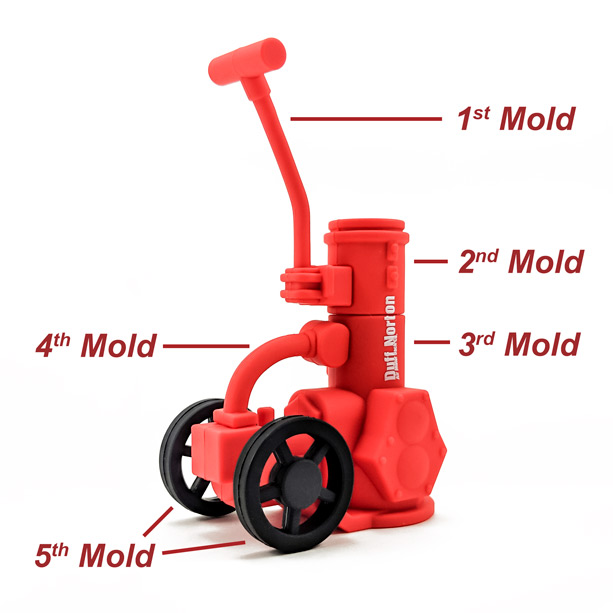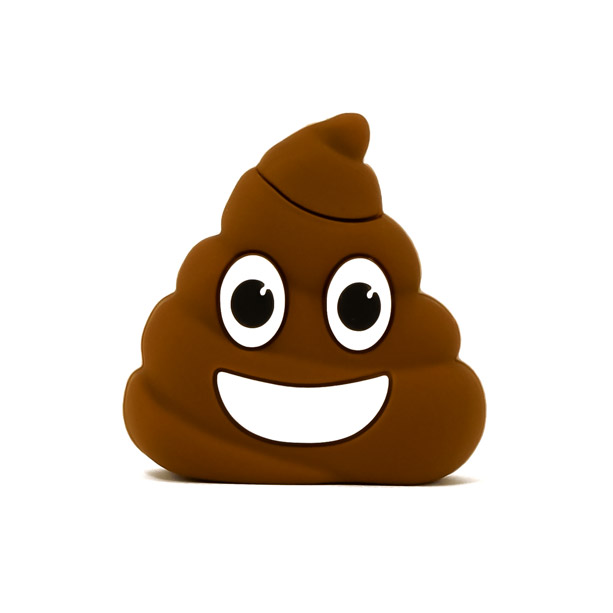 After the mold is cut to match the design of the drive, the real magic begins. While most of our custom shapes are made out of a liquid PVC, we can also use liquid silicon and even metal that increases the durability of the flash drive's body. The liquid material is then carefully poured into the mold. With designs that have various colors, we will paint in the secondary colors before pouring in the primary color. For example, with our Poop Emoji flash drives, we had to first fill in black for the pupils and then white for the eyes and mouth. Then we poured in the liquid brown silicon to fill in the rest of the mold.
Before heating the mold, we insert a spacer that creates the shape of a USB drive. This ensures the drive will fit securely into the mold once the process is complete. The two molds of each side of the flash drive are then compressed together and reheated so that they form as one solid rather than two separate sides. Water is used to cool the material, and then the solid PVC rubber is popped out of the molding.
To finish, the rubber body of the flash drive may need some trimming to get rid of any extra PVC that doesn't fit the shape. If this is the case, we will take a small trimming tool and cut the excess PVC away. As soon as the rubber PVC body is smooth and cool, the USB drive is glued into its space and ready to start marketing your business.
Finishing Touches
After the production of the flash drive is completed, we make sure to send you another visual of what the flash drive looks like. We want to guarantee you are happy with the product before we make hundreds of them. Once you approve, we will continue producing the custom shapes and have them to you in 2-3 weeks. Keep in mind if revisions need to be made to the physical mold, it may take a couple more weeks to get your delivery.
While the process may sound a bit lengthy, it is a job we consider ourselves pros at. If you have a design or idea that you're interested in turning into cool custom shaped flash drive, don't hesitate to contact us. We want to make your flash drive dreams come true in any way possible.
In the meantime check out some of these cool flash drives for inspiration!