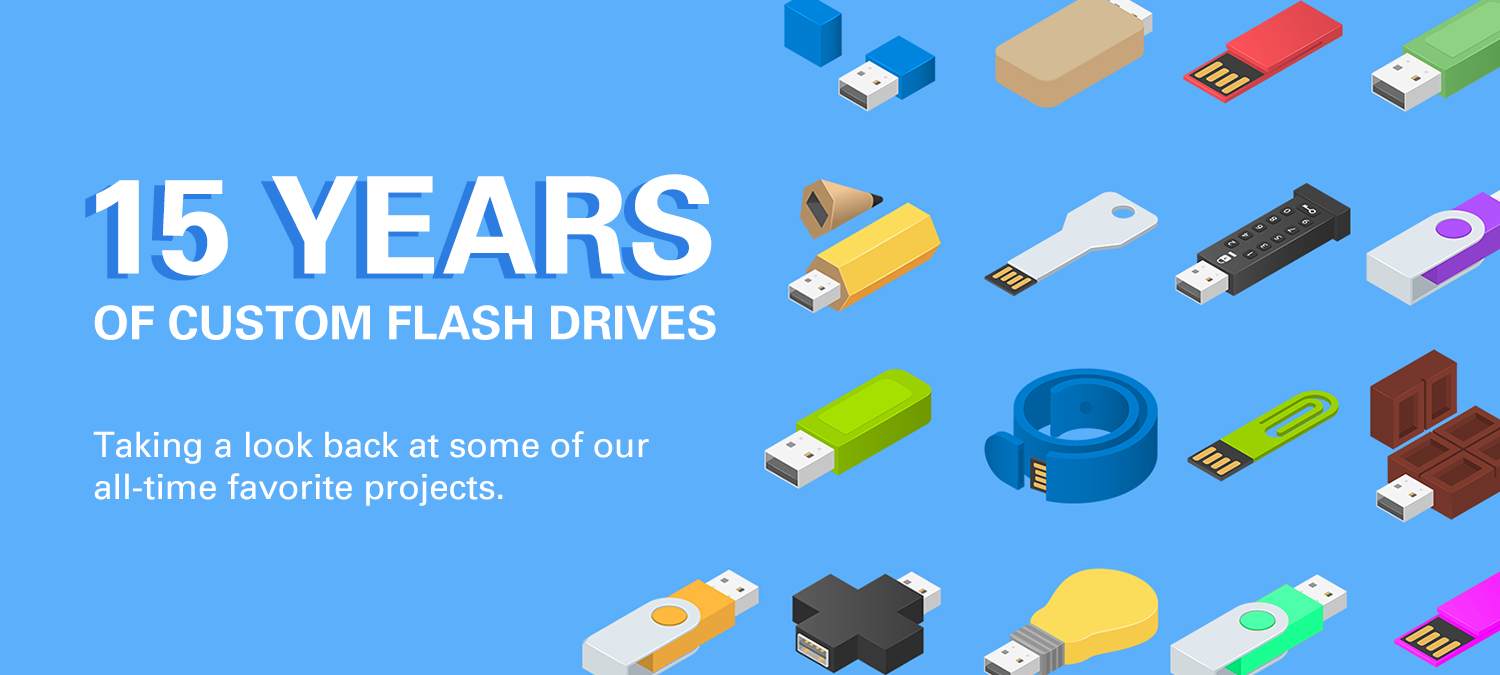 10 of Our Favorite Custom Flash Drives
Last month we celebrated 15 years of creating custom USB flash drives! It's been an incredible journey and needless to say we look forward to bringing you guys the flyest drives this side of the Milkyway for another 15 and beyond. While reminiscing about all the cool flash drives we've created over the years we had the bright idea to share our favorites here on the blog.
Sanding this list down to these final ten was no easy task and sparked some heated debate amongst the crew here. These lucky USBs that made the final cut did so for various reasons; some are close to our heart due to the hard work we put in to make them happen, others represent brands we love, and still, others are just really cool flash drives! So without further ado, and in no discernible order, let's dig into our 10 favorite custom flash drives from USB Memory Direct.
1. Poop Emoji Flash Drives
No, you aren't seeing things, yes, we really created Poop Emoji flash drives. One of the few custom USBs that we've produced to be sold in individual units on our UMD Web Store the Poop Emoji flash drives were made using premium materials. After all, what else would you expect from our favorite fecal matter?
Unlike the majority of our custom shapes, the Poop Emoji drives were forged from silicone, making them even softer and super durable, they're also odorless in case you were wondering.. Additionally, we equipped these twinkling turds with our fastest USB 3.0 memory chips to make sure users would never get caught with their pants down.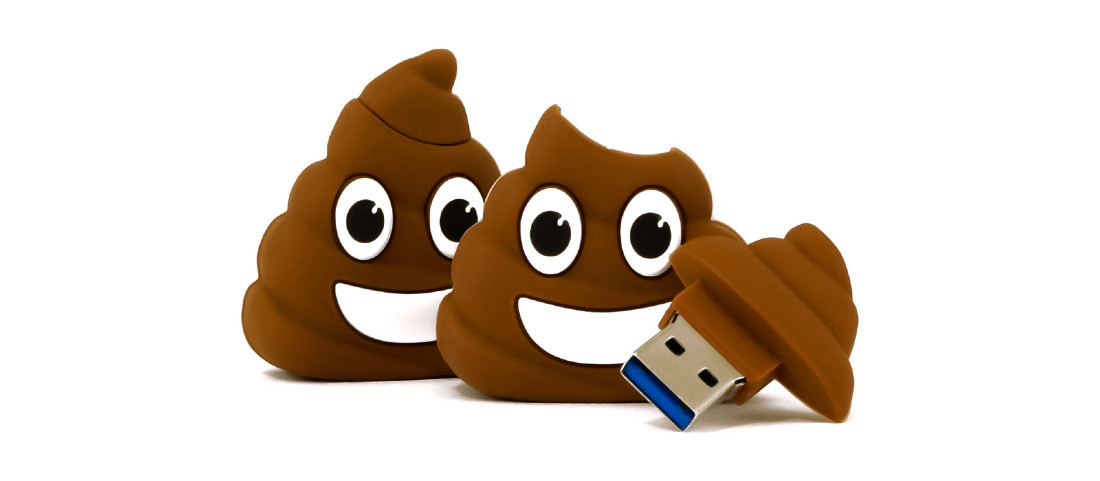 2. Pac-Man USB Drives
Next up; the Pac-Man flash drives. Created purely as a passion project by our video game-loving marketing team here at UMD. These USB drives are unique in that they were produced as a collection. The gangs all here; Inky, Blinky, Pinky, and, of course, the Pac-Meister himself.
On the reverse side of each ghost drive is a representation of their "vulnerable" dark blue form, which they take any time Pac-Man eats a power pellet. Each character has an opening on its base to discreetly house its USB flash drive. Like most custom shaped USBs that we produce, the Pac-Man drives were made from soft rubberized PVC.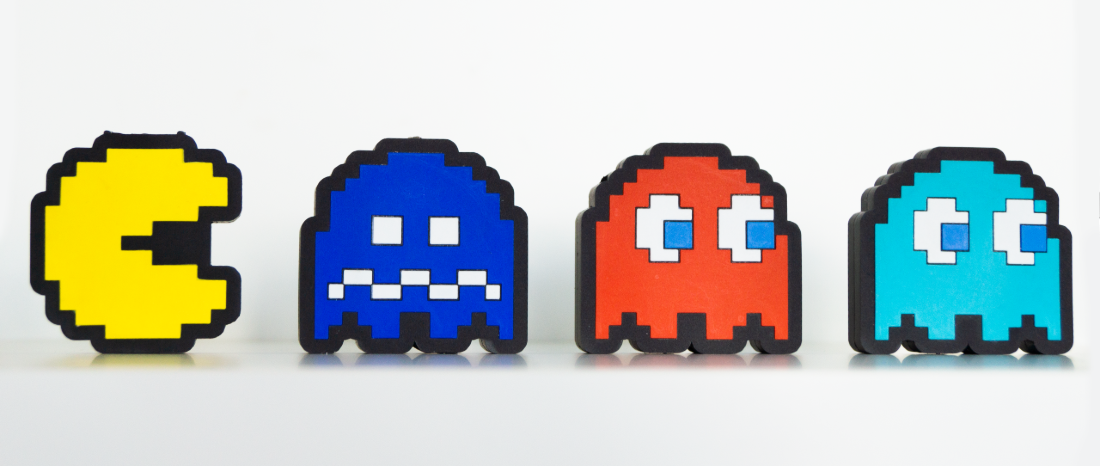 3. Grateful Dead USB Drives
As one would expect, we were ecstatic when staff from Grateful Dead Records reached out to us for this project. We've had the opportunity to work with some iconic brands over the years, but as arguably one of the greatest rock bands of all time the Grateful Dead nearly tops the list.
The Marching Bear flash drives split across the middle to reveal the encased USB. While these aren't the most complex custom shaped flash drives on this list, that doesn't make them any less awesome in our books. These USB drives ended up being sold at concerts preloaded with the Dead's greatest hits.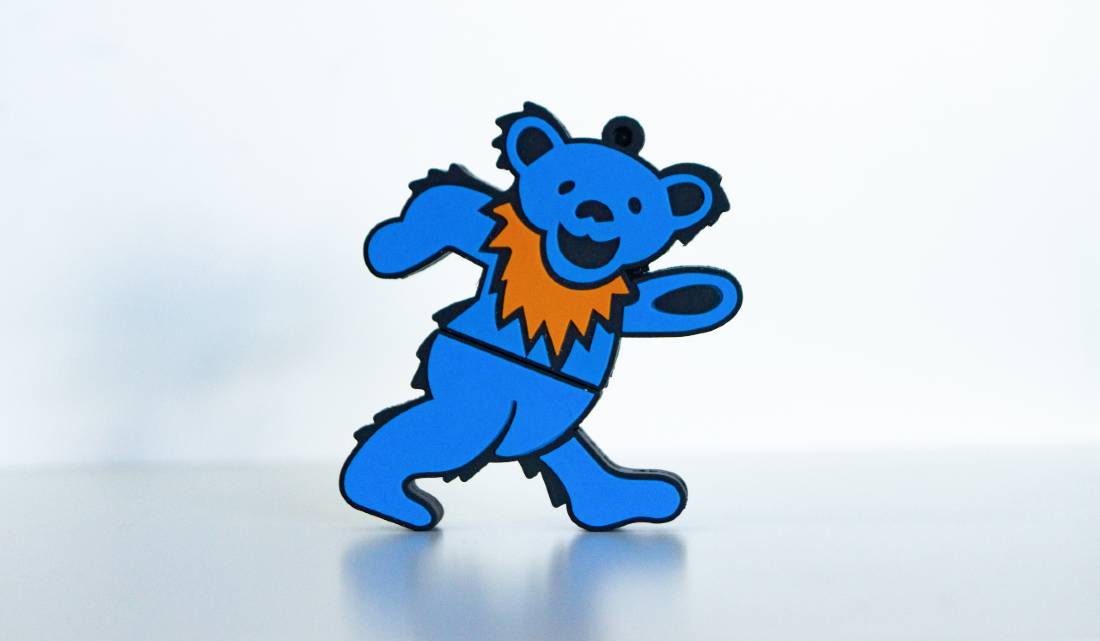 4. ICEE Cup Flash Drives
A common goal for our clients is that their USB's inspire a sense of connection with their recipients. The ICEE Cup flash drives accomplish this by playing up the brand's bright colors and iconic logo. Making the receiver nostalgic for the cold, sweet taste of their colorful soft drink.
These custom USBs employ a three-dimensional design, opting for the ICEE logo to appear on both the front and back of the cylindrical body in an embossed fashion. This well thought out design combined with the excellent use of attention-grabbing colors, and our love for the ICEE brand has solidified their spot in our all-time favorite custom flash drives.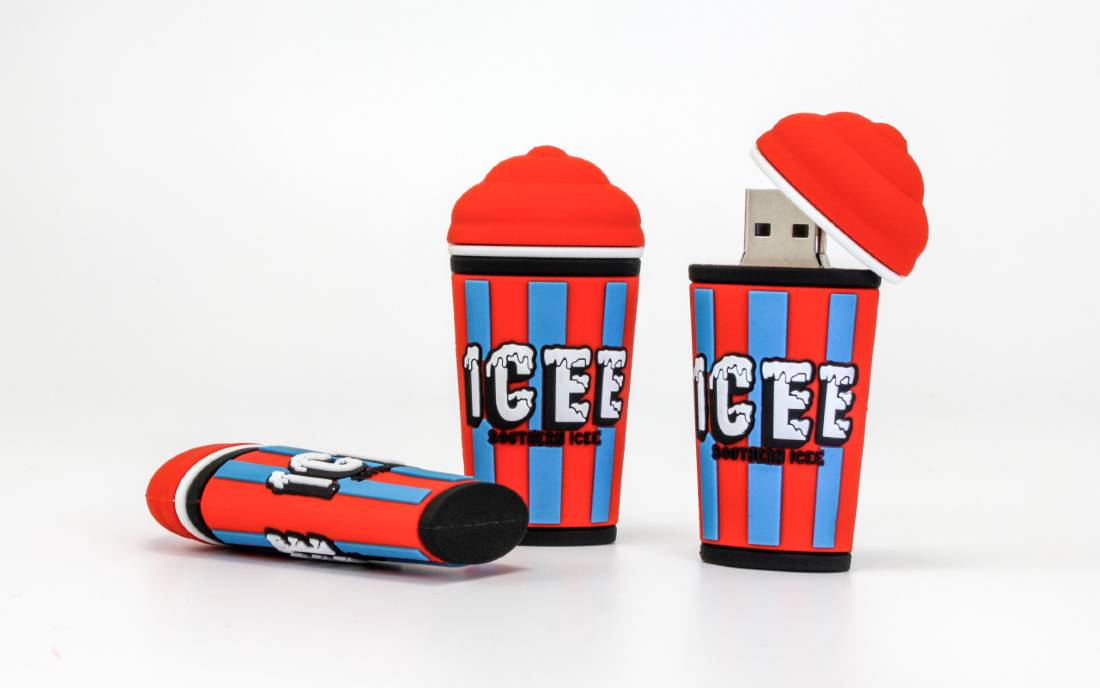 5. National Park Service USB Drives
The fifth spot on our list belongs to these arrowhead-shaped custom flash drives created for the National Park Service. Many of our staff are avid outdoorsmen (and women) so this was another project that hit close to home. We knew we had to create something really special for the good people at the NPS.
Luckily we had our work cut out for us seeing that the NPS already had such a great logo. The rugged shape of these drives is enhanced by the jagged lines separating the cap from the body of the USBs. To really set things off, our design team opted to have some elements of their design raised and outline others with indentation. This created an awesome three-dimensional effect that brought their custom shaped flash drives to life.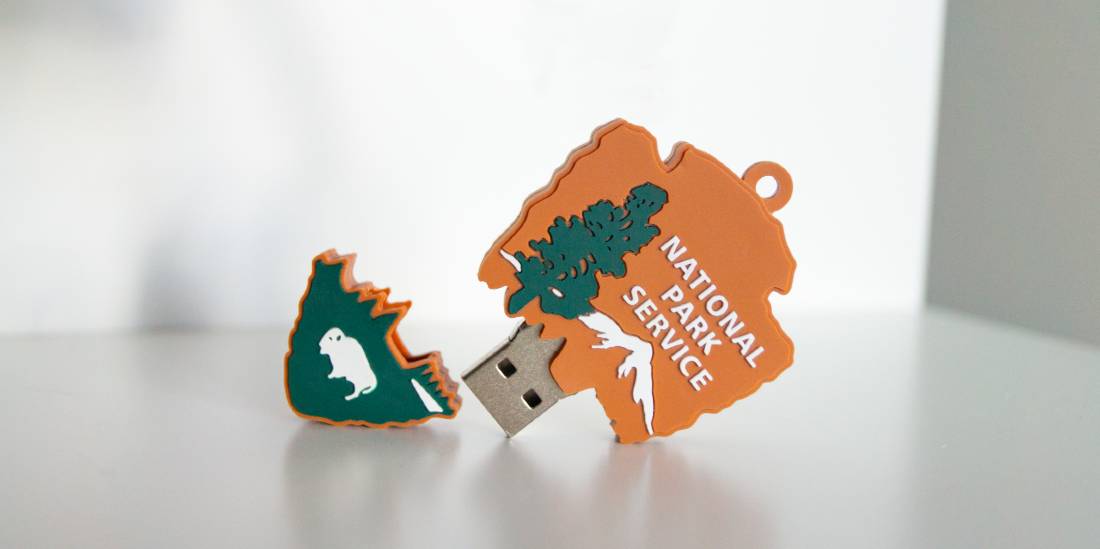 6. Hayward Valve Flash Drives
When Hayward Flow Control petitioned us to produce custom shaped flash drives modeled after their True Union Valve it was a welcomed challenge. These more complex shapes usually take a handful of design iterations to ensure the client's product is replicated as accurately as possible while maintaining its functionality as a USB and promotional product.
The Hayward valve custom flash drives are a shining example of each of these aspects. The shape precisely replicates all the important aspects of the original product, while the discreetly encased USB drive can be removed by pulling it from the left side of the drive's body. To top them off we added the Hayward logo to the front for additional branding.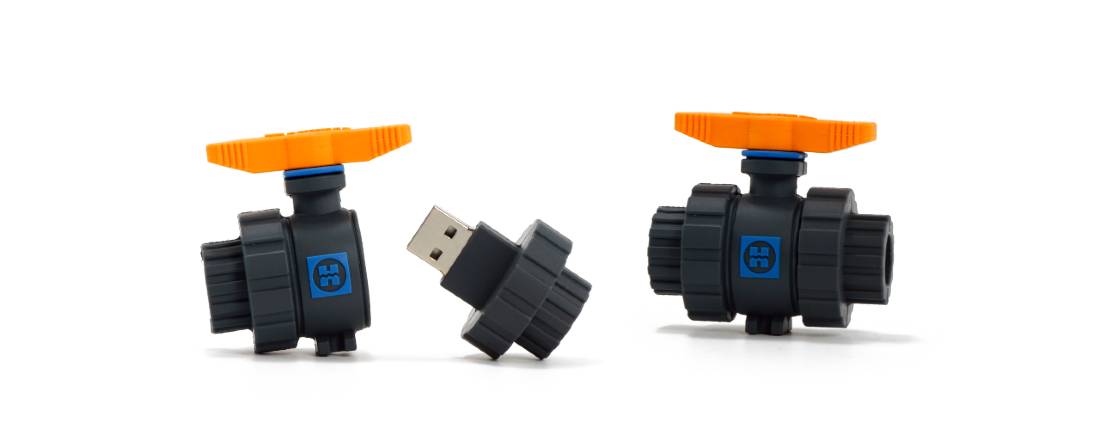 7. USB Business Cards
The only drive on the list that isn't a custom shape, our USB Memory Direct flash drive business cards have been an incredible marketing tool for our team. We've been utilizing them for the past decade and have gone through a few iterations over that time period.
Our latest version, pictured below, was created after our rebranding in 2018. They utilize a simple layout contrasted by our bold signature orange and, of course, feature our beloved mascot, Ubie, printed across the back of the drives and on the USB tab. Simply press on the edge of the tab to unfold the secured USB from the drive's body.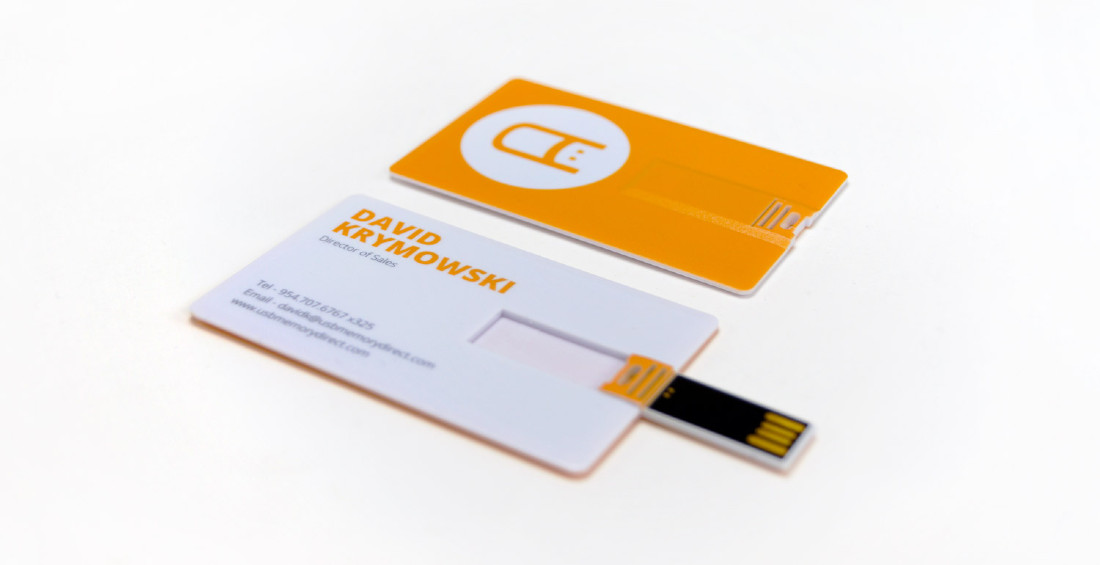 8. Dog Rescue 911 Flash Drives
These Dog Rescue 911 drives were one custom USB that we could all agree deserved a spot amongst our favorites. I mean, come on, super cute french bulldogs on custom shaped flash drives, what more could you ask for? Just Pull the pupper off to uncover the USB plug underneath.
These drives took every detail into account. The colorful wrinkles on our canine companion, a paw print dot for the "R", and bones as 1's. While these custom flash drives are pretty great, we would be remiss without giving a shout out to the good people at Dog Rescue 911 themselves. Check out their Instagram to see some of the great work they do for our furry friends on a daily basis.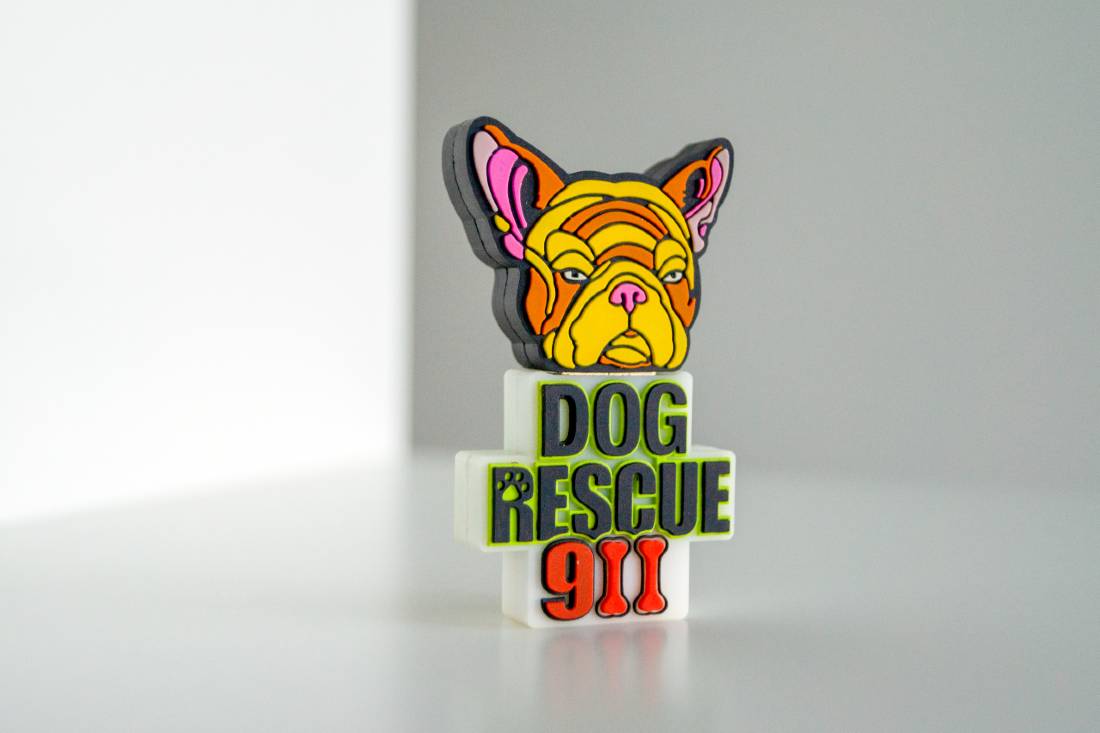 9. Jack Links Flash Drives
Another concept drive we created, the Jack Links custom USBs were modeled after a bag of our favorite protein-packed snack. Our team here has been long time fans of both Jack Link's jerky as well as their hilarious "Feed Your Wild Side" marketing campaigns. And, as you can probably tell by now, when we love something it's not out of the norm for us to turn it into a flash drive.
We went all out for these custom shaped flash drives. Making sure to even include minor details such as the net weight inscribed near the bottom of the bag, and a hole at the top so they can hang on the convenient store shelf. In fact, the only key difference seems to be that removing the top reveals a USB drive instead of a savory snack.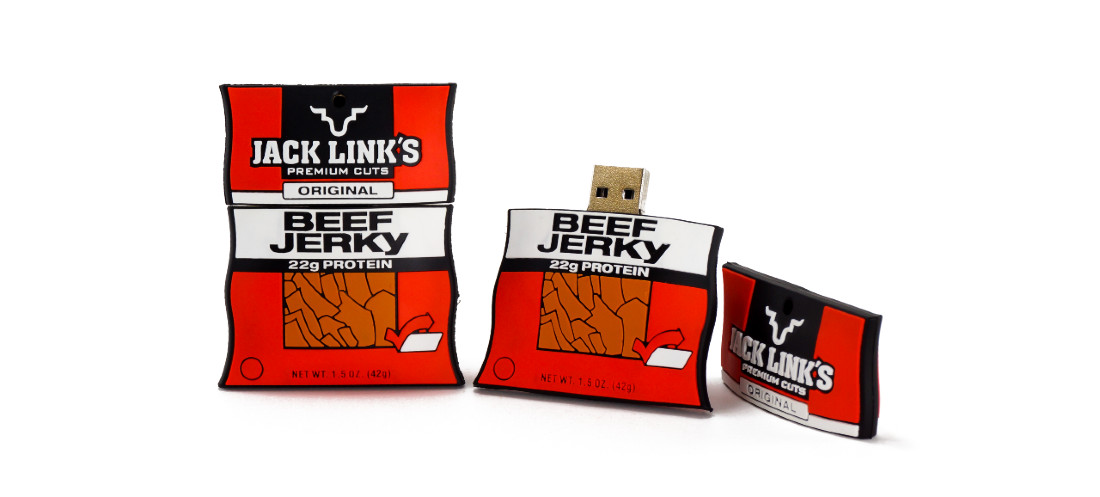 10. Cryptex USB Flash Drives
Finalizing our list we have the Cryptex flash drives. Created way back in 2011, we originally got the idea to manufacture our own Cryptex USB after happening across a picture of something similar created as a one-off by a Russian steampunk enthusiast. The central cylinder of the drives encasement has 5 turnable rows each numbered 1 through 9. Unlocking the USB requires the correct five digits be aligned.
Needless to say, we had a blast working on this project and learned a ton about design and manufacturing throughout the process. Unfortunately, the overall cost for design and materials was too high for us to mass produce for individual sale. However, we were able to turn out a couple of prototypes to keep around the office.

There you have it folks, our top ten favorite custom flash drive projects. If you're interested in learning more about the process of creating custom shaped flash drives you can check out this blog post. Or head to our Instagram and give us a follow to stay up to date on our latest and greatest creations.
Get a custom quote for your project in 15 minutes!