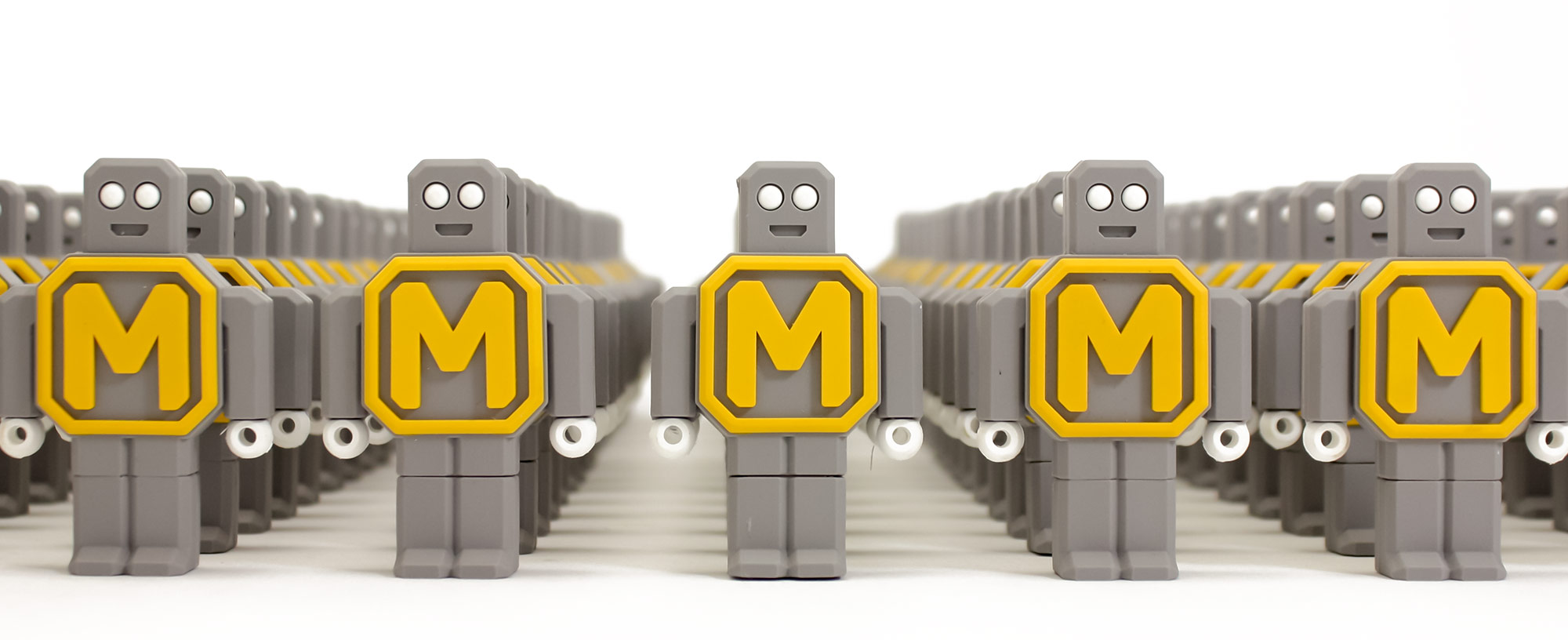 Custom Shaped Robot USB Drives for Modkit Micro
Here at USB Memory Direct, nothing makes us more excited than seeing cool new businesses making their way up the market. But when that project has anything tech-related, then we have to get involved!
Enter Modkit Micro: A graphical programming environment for microcontrollers.
Developers are striving to create the easiest way possible to program a growing list of open hardware platforms from Arduino to Wiring. Modkit Micro can help everyone do just that through its simple, yet powerful visual programming interface.
For those of you who don't know, basically microcontrollers are used by programmers and engineers to make things "smarter". Microcontrollers let you add behaviors to everyday objects and electronic gadgets, so that a stuffed teddy bear can respond to your hug, or window blinds can wink at you. Modkit Micro provides the perfect platform to tinker and customize your own programming to produce behaviors limited only by your own imagination.
How does Modkit Micro work exactly?
The developers at Modkit designed the program to be as smart as possible, while still retaining the power and flexibility of a real programming environment. The steps are as simple as they can possibly get. All you have to do is:
Plug in your board
Drag components
Get matching blocks
Drag and drop to make a program
Press play Try out your project
See and edit the code you've created
Makes it look so easy that kids could do it right? Well they can, and they did!
Below are some video clips from a brief workshop for elementary school students at TEDxKIDS Brussels. The children recreated a standard "Hello World" project by tracing their hands on paper and programming servos to wave at their command.
The idea behind it is to allow inventors, artists, kids, designers, engineers, educators, students, and everyone else to bypass the traditional obstacles associated with traditional programming. Over the past decade, DIY/Maker communities have succeeded in making electronics and microcontrollers more accessible. As a result of their hard efforts, you can now pick up an Arduino board right in a RadioShack! Since it's been made more accessible to the public, the need for a medium to easily interact with and program these microcontrollers has become more and more of a necessity. To sum up, Modkit Micro works to make these microcontrollers more accessible and programmable to everyone, regardless of their particular background or skill set.
Cool Custom Robot USB Drives
The Modkit team wanted to do something extra special for its backers on kickstarter, so they settled for nothing but the best: Custom Shaped USB Drives. When they contacted us we knew this was going to be something special, and we were more than happy to work with the development team at Modkit to make this happen.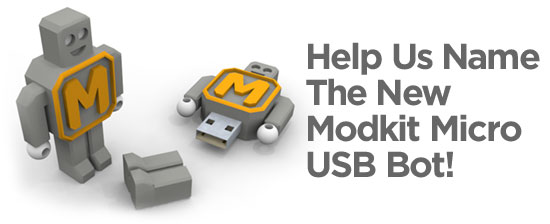 Modkit decided to launch their desktop editor exclusively on custom flash drives for some really great reasons! After some quick market research they realized that despite the advances of digital technology, people still love getting a physical product in the mail - so a flash drive reward seemed like the perfect fit. Offering software on promotional usb drives that can be conveniently distributed alongside devices also introduces Modkit Micro to a larger audience in the DIY/Maker culture.
We spoke with Collin from the Modkit team who had a really cool design in mind for a robot toy. The bots really capture the tech world market they're trying to reach and look plain cool!
To create your own custom shaped flash drives, you'll first need to send us some background info - including email, phone, company name and an estimate of how many drives you'll need. After you've sent us the info, one of our friendly customer service members will contact you within 15 minutes! You can then email us a rough sketch, professional blueprint, 3D rendering, or even just a brief worded description of what you'd like done.
Not really sure what you'd like for your custom shaped drives? No worries! We get that all the time. USB Memory Direct would be more than happy to have its professional creative team consult with you about possible designs and shapes that would best serve your needs - at no additional charge.
You can also preload your drives with any type of data you'd like. Add you company brochure, product catalogs, PowerPoint presentations, website links, video, and pictures. Modkit went ahead and preloaded their drives with an entire microcontroller graphical interface program! Just let us know, and we'll make it happen!
Best of luck to the Modkit Team and the Modkit Micro project!