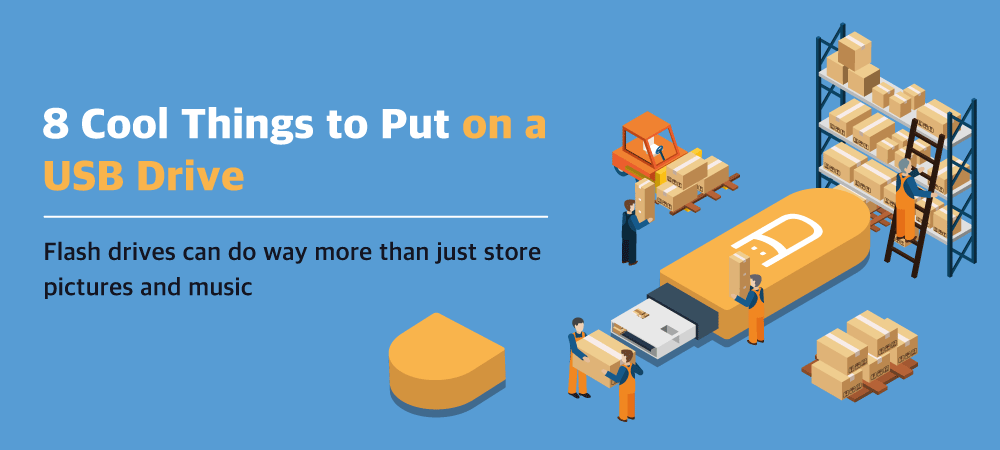 8 Cool Things to Put on a USB Drive
Part of what makes custom USB drives awesome is their flexibility. These sleek, slim drives can hold many types of files and fill a lot of different roles in our digital lives. Most people have never done even a fraction of the many things that you can do with a flash drive!
So, what are some cool things to put on a custom USB drive? Glad you asked! Here are eight interesting and useful ways that people use USB drives to store their digital necessities.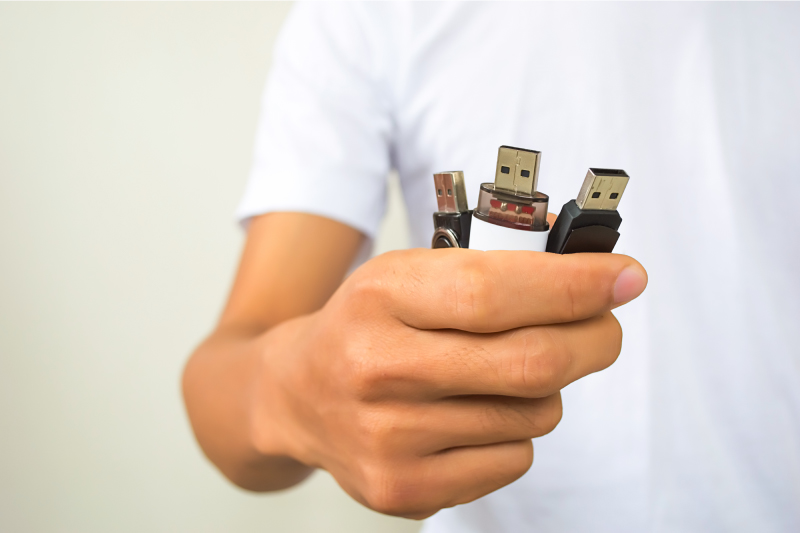 1. Media Library
Do you have music, movies, games or other media that you'd like to back up? A USB flash drive is an excellent way to make sure that your library is safely stored in multiple locations. USB Memory Direct's custom flash drives are available with flash memory capacity of up to 128 GB. That's enough to store an entire library of music, multiple movies in ultra high resolution or at least one Phish concert recording.
2. Creative Portfolio
A USB flash drive is a great way to look professional and polished while giving potential clients easy access to your samples. In particular, people who work in creative industries often use a USB flash drive as a sleek portable portfolio. It's an especially good option for portfolios in video editing, animation, graphic design or other new media. Consider how presentation is everything when you're wooing a client for your creative business.
3. Bootable OS
Bootable flash drives are useful tools for anyone who needs flexibility and data security on the go. It's surprisingly simple to install an OS on a USB drive. Once it's done, you'll be able to boot into a secure virtual operating environment on any compatible machine. It's an ideal tool for IT professionals and anyone who might need to work on a non-secure computer.
4. Cryptocurrency
A USB drive can also function as short-term DIY storage for cryptocurrency keys. All it takes is installing one of the many cold wallet apps on your USB drive and then transferring your crypto keys to the cold wallet. So long as you use proper precautions like offline transaction signing, it's like having a personal digital safe for those precious Dogecoins. To take it a step further, you can even put your crypto onto a USB card and keep it in your wallet so you can access those funds at any time.

You Won't Believe How Affordable USB Cards Are!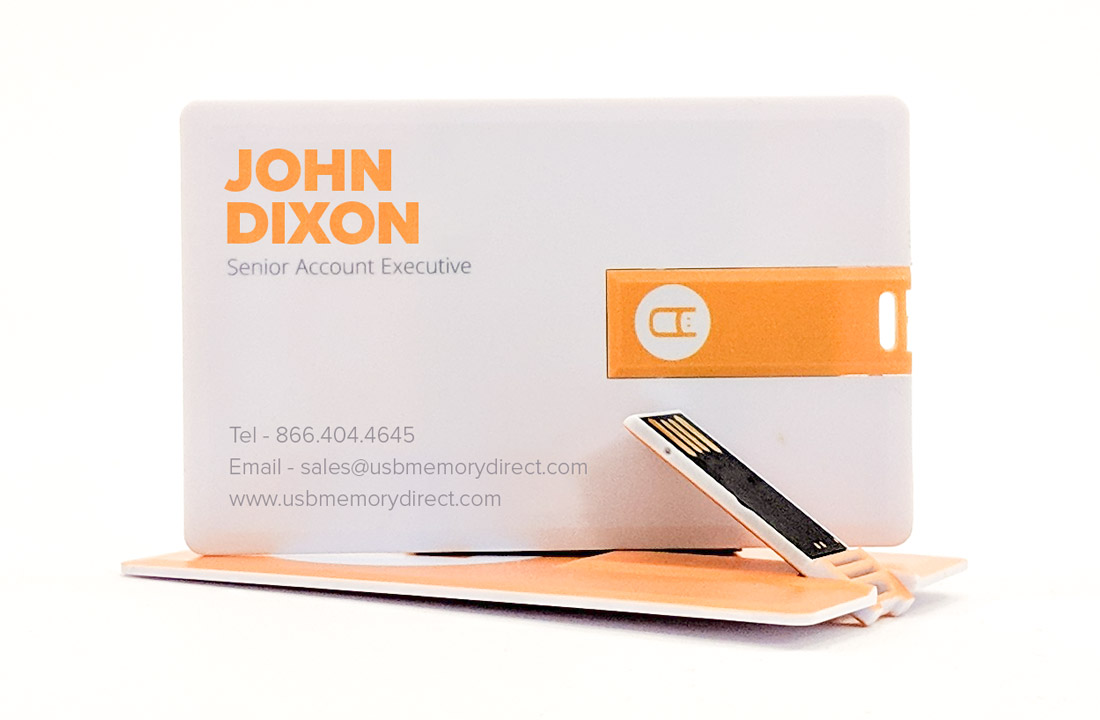 5. Photos and Videos
Sure, most of us love our cloud storage for our favorite photos and videos. But it's important to have multiple backups for the things that matter, and USB drives are one easy and affordable way to back up your most important files. If you've got some cherished photos or videos you'd hate to lose, consider making at least one backup of them on a USB flash drive.
6. Client Deliverables
Media professionals often use USB flash drives as a hard copy of their deliverables for clients. Photos, art files, documents and other deliverables can all be conveniently stored on a USB drive. That makes it a great complement to digital files sent through email or cloud storage. The USB drive serves both as a file backup and as a promotional piece that can help keep you top of mind for years.
7. Travel Documents
Looking to make some backups of key travel documents before you head out for that big trip? Use a USB drive as one of your backup methods! If you find yourself without critical papers like your passport, you'll thank yourself for keeping USB copies just in case. Try putting them on a USB bracelet to make them hard to misplace! However, keeping additional paper backups is still a good idea in case you need to show your credentials on short notice.
8. Games
Want to play a PC or Mac game that you don't feel like installing? No problem — it's actually possible to run most games from a USB drive! If you go this route, make sure to get a USB flash drive with fast data transfer speeds. USB 3.0 and USB-C flash drives are popular choices for applications that need low latency. It's the perfect solution when you don't really want to reinstall Skyrim, but you need that midnight dragon-slaying fix.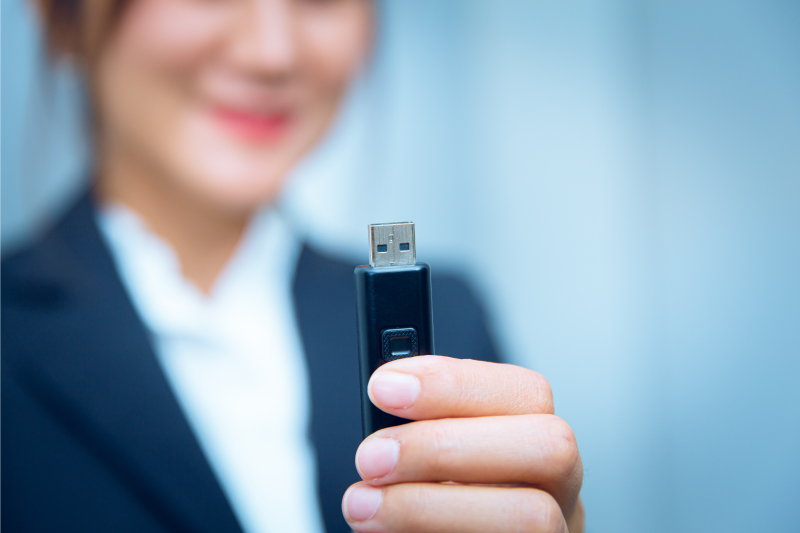 With the amazing prices on custom bulk USB drives that we offer, you'll have plenty of flash drives for whatever cool things to put on a USB drive you can dream up! Get a fast, free quote on custom USB drives from us now, or check out our blog for more cool tech tips.