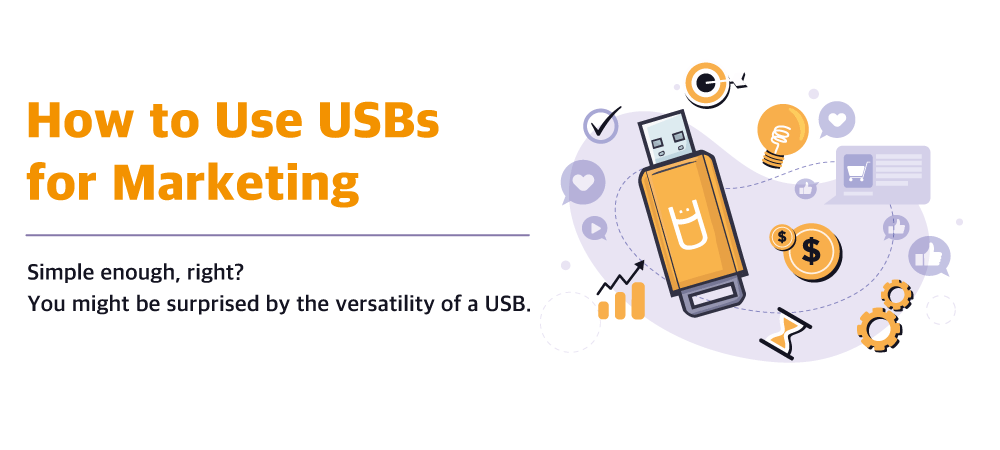 How to Use USB Drives for Marketing
Marketing has always been about making your brand visible to the people who will connect with it most. But in a market saturated with so many brands and messages, who's going to stand out - and how? It's all about a combination of practicality and uniqueness. That's part of why USB marketing materials are an increasingly popular strategy for many businesses.
We're going to take a quick dive into why and how businesses use USB flash drives as marketing tools. Let's start by examining the reasons that USB drives are so uniquely effective for these purposes.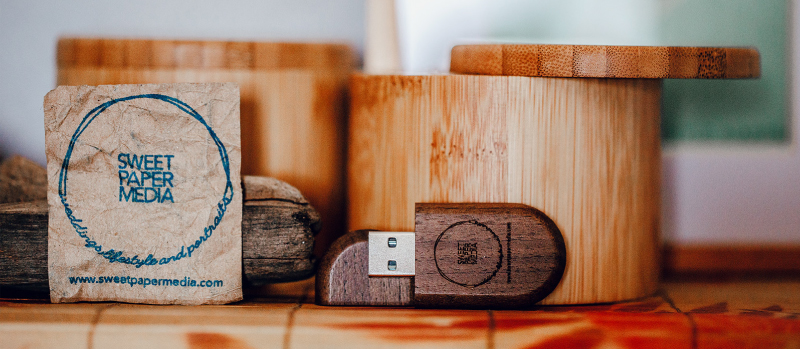 Why Use USB Drives for Marketing?
1. Affordable
Flash drives are extremely affordable, especially when you buy bulk USB drives at wholesale prices. That makes them a cost-effective marketing tool and leaves more budget for customization.
2. Accessible
Most people have access to a device with a USB port. In fact, with the widespread phase-out of optical drives on computers, USB drives are now more accessible than CDs.
3. Versatile
A USB flash drive can store anything from photos to software to videos to PowerPoint presentations. It's also easy to find flash drives with huge memory capacity that can fit even your heftiest file sizes.
4. Distinctive
USB flash drives are available in tons of different styles. Our flash drive styles at USB Memory Direct are made to be visually striking and easy to customize with your designs and logos. Or, for a truly distinctive look, order custom flash drives made to your exact specs!

Find Out How Affordable Custom Flash Drives Can Be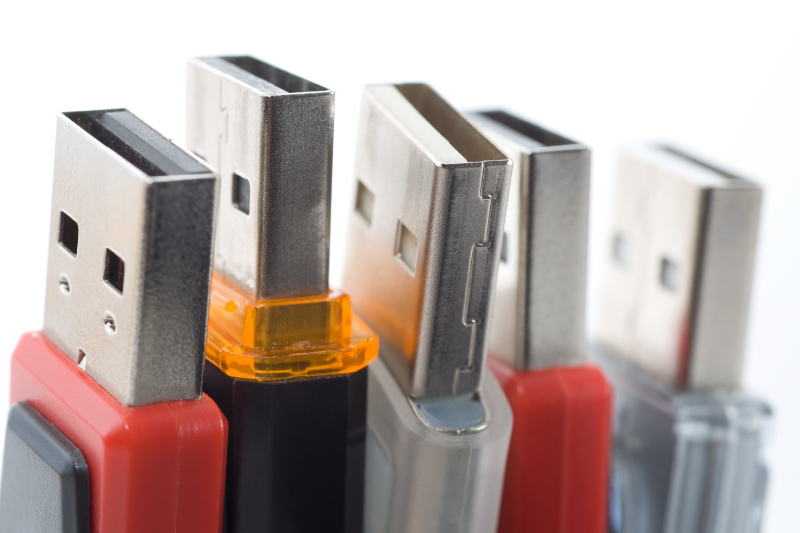 How Businesses Use USB Marketing Materials
1. Promotional Items
Many businesses give away free promotional swag at conferences, trade shows and other events. If you want to ensure that everyone wants to visit your booth, have useful and memorable conference marketing materials like USB drives. USB Memory Direct also offers designs, like our USB business cards, that are perfect for trade show promotion.
2. Marketing Collateral
USB drives also offer a convenient and polished way to get marketing collateral in front of potential clients. One effective tactic is to preload your drives with spec sheets, white papers, testimonials or your choice of marketing materials. This makes a great all-in-one information resource for prospective clients, and a custom flash drive is the perfect professional package.
3. Deliverables
Sure, you'll probably send client deliverables like wedding photos, consulting reports or audio mix files through the cloud. But sending an additional hard copy on a custom USB drive shows that you pay attention to detail and care about presentation. Plus, if you have large file sizes and need fast transfer speeds, USB 3.0 flash drives are a great choice. (Read more about the difference in USB 2.0 vs. 3.0.)
4. Thank You Gifts
Businesses often send small thank you gifts to their clients and partners, especially around holidays. A USB drive makes a great addition in a gift basket of branded swag, especially when you're looking for practical gifts that will actually get used. Your gift recipient might well use their USB drive for years, and they'll think of your brand every time!
5. User Documentation
Branded USB drives are an ideal hard copy format for manuals, readme files, version histories and other essential user documentation. The reliability and convenience of USB drives make them well suited for documentation applications.
Finding the Best USB Drives for Marketing
1. Dependable Quality
Quality is always important in marketing materials. Who wants their brand's name associated with a leaky water bottle or exploding pen? For the same reasons, you probably don't want your brand on a low quality USB drive that could delete someone's data. Our promise at USB Memory Direct is to provide all of our clients with USB drives worthy of their brands.
2. Options and Customization
USB Memory Direct offers dozens of customizable flash drive designs. From the sleek to the utilitarian, we've got it all. What's more, we're equipped to create fully custom flash drive designs for your marketing campaign. Our flash drives are also available with must-have features like preloaded data, your choice of file system formats and both USB-A and USB-C connectors.
3. Fast and Priced Right
We price our custom USB drives to give our customers the best value so you can stretch every marketing dollar further. Plus, our quick turnaround times mean less waiting for your order and more time to watch your marketing strategies work.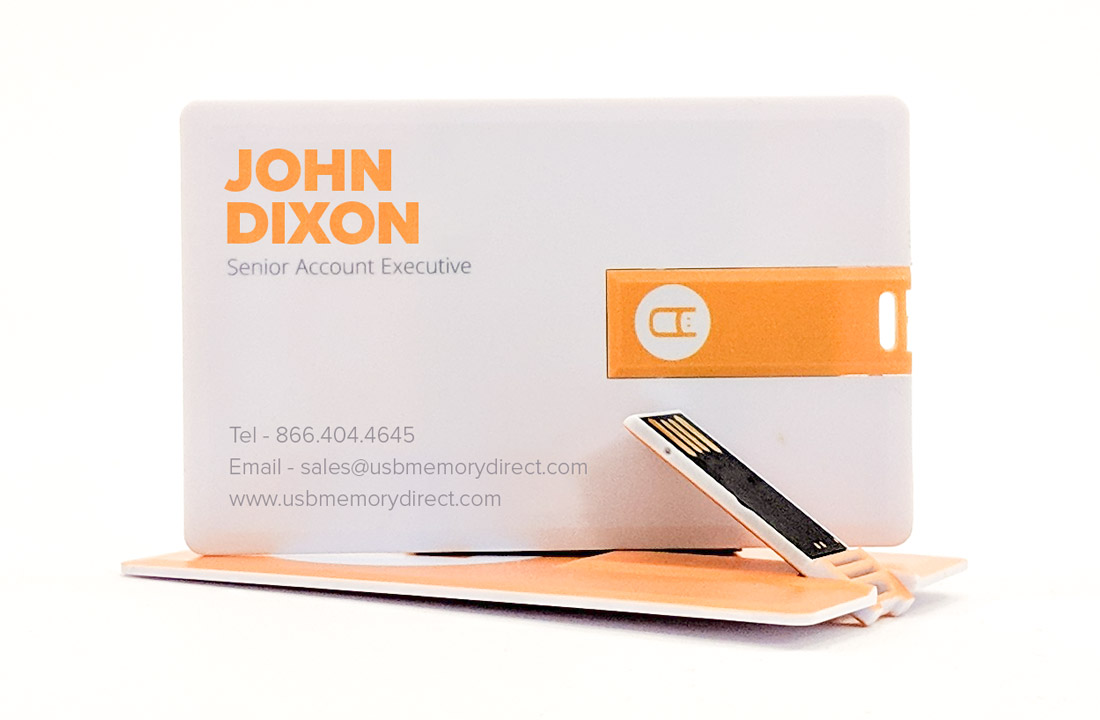 Don't wait to get your brand out there — we make it easy to get started on your custom flash drive order! Get a free quote on custom flash drives now, or check out some of our favorite custom USB designs to find some inspiration for your own.