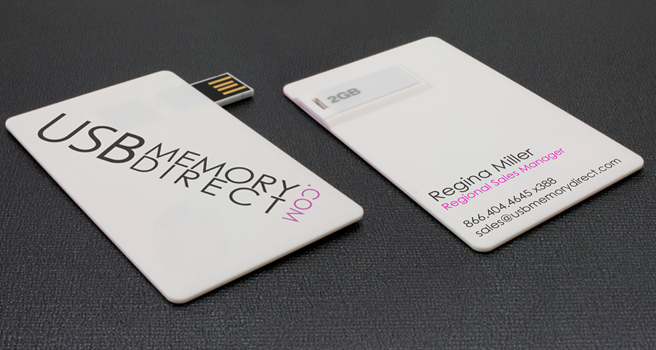 New USB Business Card Style
We are always looking for new ideas for USB drives and ideas on how to use current USB styles in new and exciting ways. We came upon one such idea with our Card-Tab style USB Card. While we have printed customer's contact information on card style USB drives in the past, we have never had an order for drives that look so much like a traditional business card. The design of this run of USB Cards came to be when our lead designer was tasked with creating new business cards for one of our Regional Sales Managers. Needless to say, everyone was quite pleased and surprised to see what he came up with.
Most customers elect to use up the entire printing area of the card when selecting their graphics and print. This is understandable, as our various card styles allow you to present as much vital information as possible. Sometimes, this can give the drive a busy or cluttered look. Instead, we strategically choose to leave a lot of white space on the card, drawing attention to the logo, or to the contact information on the reverse side. We believe this design decision made for a more classic and elegant look to our drive.
Another novel idea that was used for this drive is edge printing. While this is done rather commonly with high-end business card design, it is something we have never done before with our flash drives. The pink edge compliments our logo and overall gives the drive a bit of extra flare. All design elements aside, the real novelty of the business card comes from the small USB drive that slides into a port on the side of the USB drive. Few people have ever received USB business cards, so they inevitably will end up plugging the drive into a computer. Upon insertion the USB launches our website in the computer's default web browser. It also includes a short presentation showcasing new products and services. All in all the USB business card offers the best of both design and functionality. The interactive features are a real novelty and will help this business card stand out from all the other business cards see every day. We are excited to be adding another great idea to our portfolio, and we hope that it helps spark new ideas for promoting and marketing your own brand.