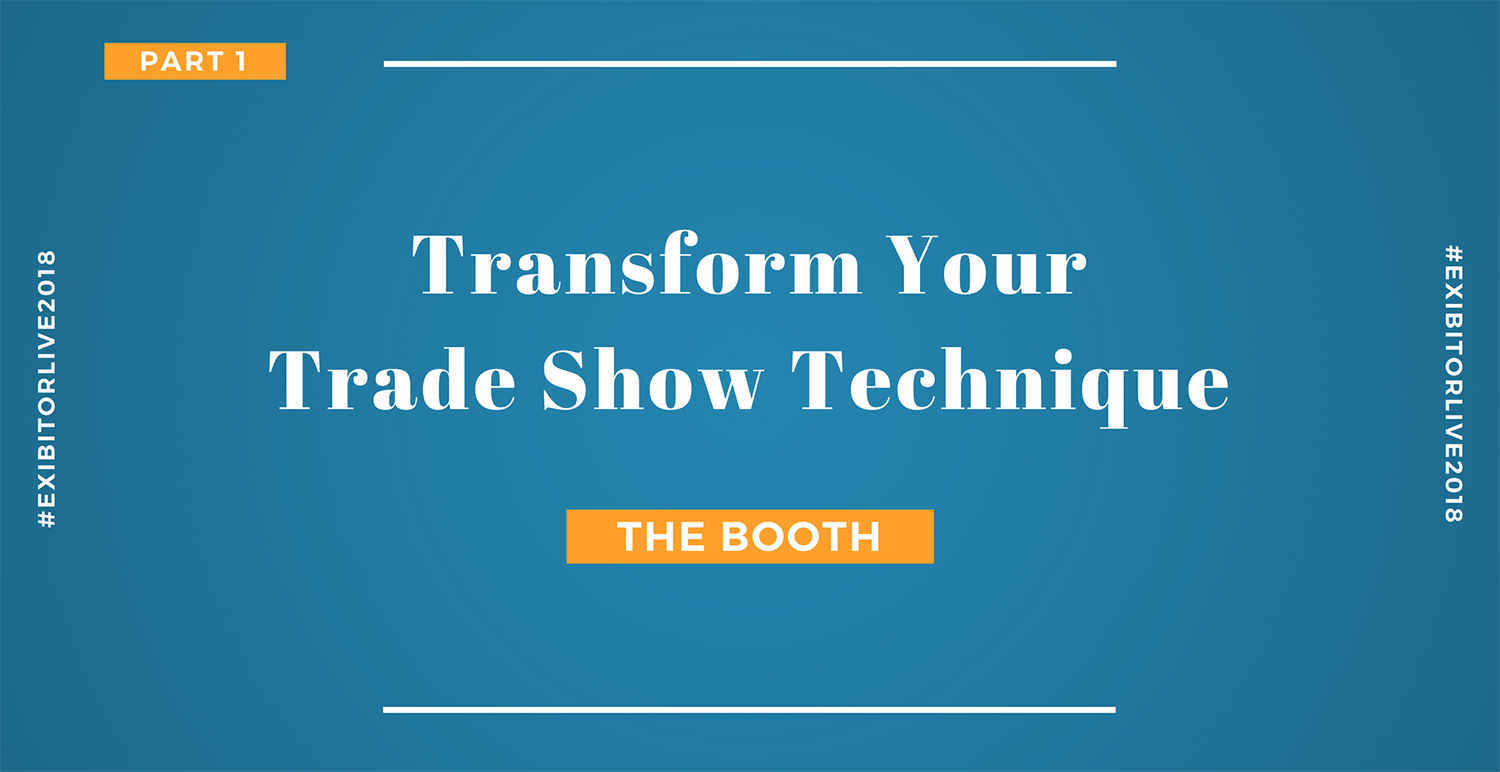 Transform Your Tradeshow Techniques: The Booth (Part 1)
Let's be honest, large events such as trade shows can be overwhelming and intimidating. However, with the right team, plan, and boldness, a trade show can be extraordinarily rewarding. USB Memory Direct did just that at ExhibitorLive 2018 in Mandalay, Las Vegas.
As exhibitors at one of the largest trade shows in America, we came prepared. With years of trade show experience under our belt, we learned what works and what doesn't for these particular events. If you're looking to improve your ROI through enhancing your overall trade show presence, we got you covered! We will be releasing a series of articles discussing different aspects of trade shows and what we've learned. Essentially, a simple rundown of our experience and technique to help anyone who's looking to polish their own approach.
As an exhibitor, your ROI depends on a lot of factors. Before we get into the nitty-gritty, we need to discuss a couple of things you should plan before the trade show doors swing open.
In the initial steps of planning, you need to consider:
1. The location of your booth
2. Booth setup
3. Tradeshow attire
4. Booth atmosphere
In Part 1 of the "Transform Your Tradeshow Techniques" we will help you pick the ideal spot, plan your booth setup, create a professional yet approachable outfit, and a friendly welcoming vibe in your booth.
Picking the Booth's Location
When registering for a trade show, picking your booth's location is your first and most important step. No matter how brilliant your plan is, it won't matter if no one hears it.
Location Highlights:
? Do your homework on who will be at your show, and the location of their booths
? Find the highest traffic area available to you
? If the main walkways are not available, try to place yourself between popular booths
Many articles tell exhibitors to look for areas of high traffic, such as large walkways and identify where the entrance and exit doors are. Though that's great advice, sometimes the senior attendees have already taken those booths, meaning as a new exhibitor you may not be able to pick your ideal spot. Don't feel discouraged though because even if your booth isn't in the center of the room, it doesn't mean you won't be successful. There are many other factors that will drive foot traffic to your booth.
The first piece of advice we'll give you before you choose your spot is to do your homework. You want to educate yourself on which veteran exhibitors are attending the show. Research which group won best booth last year, who always hands out the best beer, or who's known to raffle off 50 skateboards. Finding a spot between these booths gives you leverage. You should never feel intimidated by having a popular booth near you. Instead, look at it as an opportunity to benefit from the constant flow of traffic that will pass by these popular exhibits.
When we registered for ExhibitorLive 2018, many companies that have been going to this show for longer than us had scooped up most of the prime real estate. When we saw the options we knew if we didn't have a good plan the ROI would be poor at best. This is when our marketing team had to put their thinking caps on and figure out which spot would benefit us the most.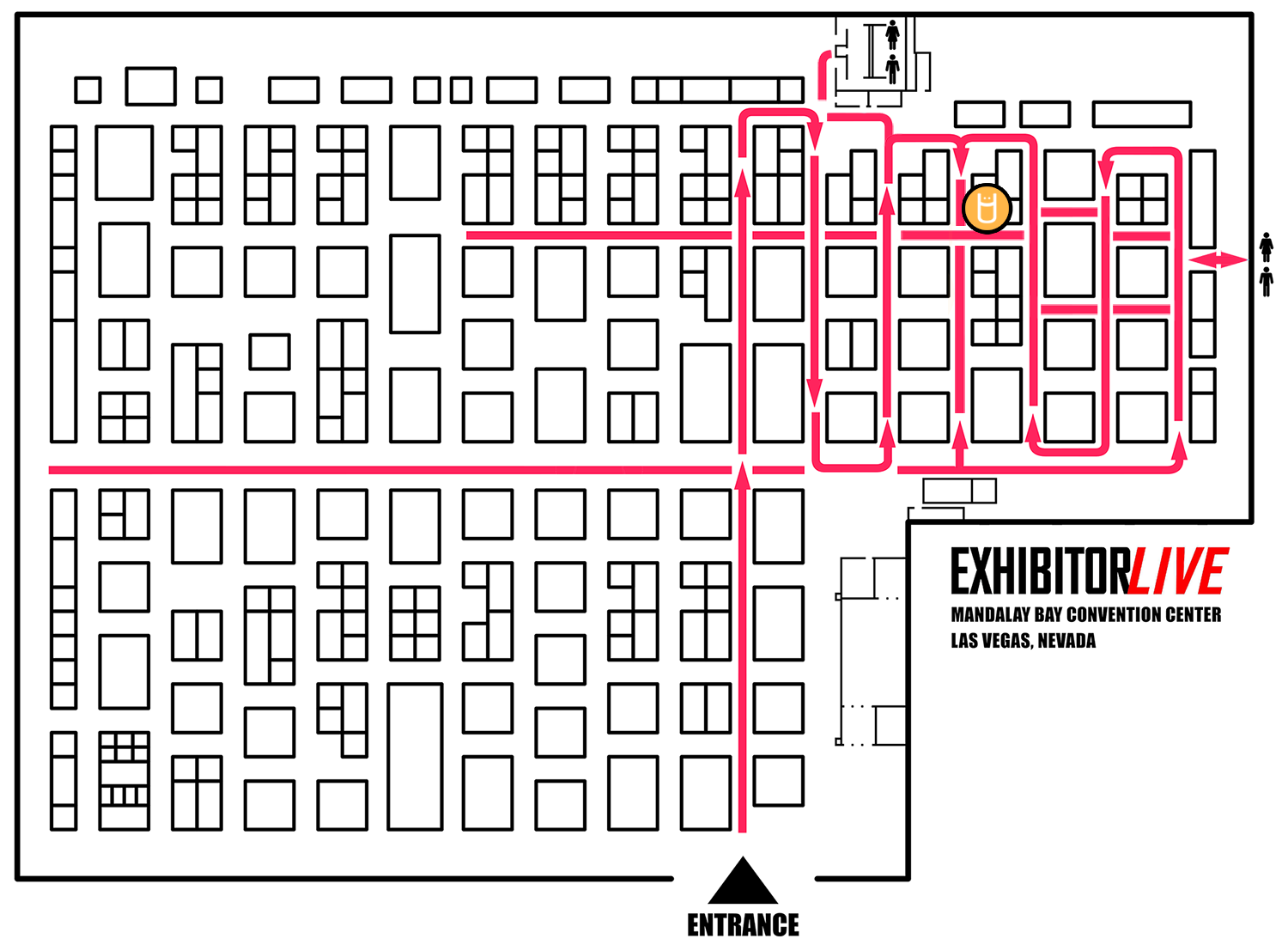 We decided on our location based on common flow patterns from the entrance to the larger booths and from the larger booths to other large booths. Analyzing which direction they would walk in lead us to pick our perfect 10'x10' corner.
The red lines indicate our flow projections. We calculated that including large Exhibitors, attractions such as beer, and the bathrooms would drive more than 8 common paths past our booth. Our location, which is indicated by the USB Memory Direct icon, was on common walking paths from/to Zig Zibit, BeMatrix, AGAM, 4Productions, Hadley Exhibits, E & E, Hamilton Exhibits, and even both sets of bathrooms. We knew that these awesome exhibitor would drive a substantial amount of traffic. Not only would would some of these exhibitors receive flow from the large booths to the left of it, booths like Zig Zibit were on a direct path from the entrance.
We were pleased to see that this tactic worked. The flow of traffic that passed through our area during the show and the directions they walked proved our calculations were correct. Though it's difficult to pick the best available spot in the room, especially if it's your first or second time, choose to the best of your ability. Remember, location isn't everything, but it's very important.
Setting Up the Booth
Once you've positioned yourself in a prime spot, it's time to make your booth both approachable and presentable. Your strategy will vary depending on the size of your booth.
Setup Highlights:
? Bigger does not mean better
? Utilize your booth space intelligently--show your best products
? Don't forget to leave room for buyers and prospective clients
? Represent your brand
One huge mistake people make is assuming that a bigger booth will draw a bigger crowd. Don't be fooled, depending on what your brand does, bigger is not always better. If you have a 20'x20' booth with 4 employees each talking to 1 person at a time, not only will what you spent on the larger booth hurt your ROI, your booth will look empty! If your booth looks like it has no traffic, people will assume you have nothing good to offer.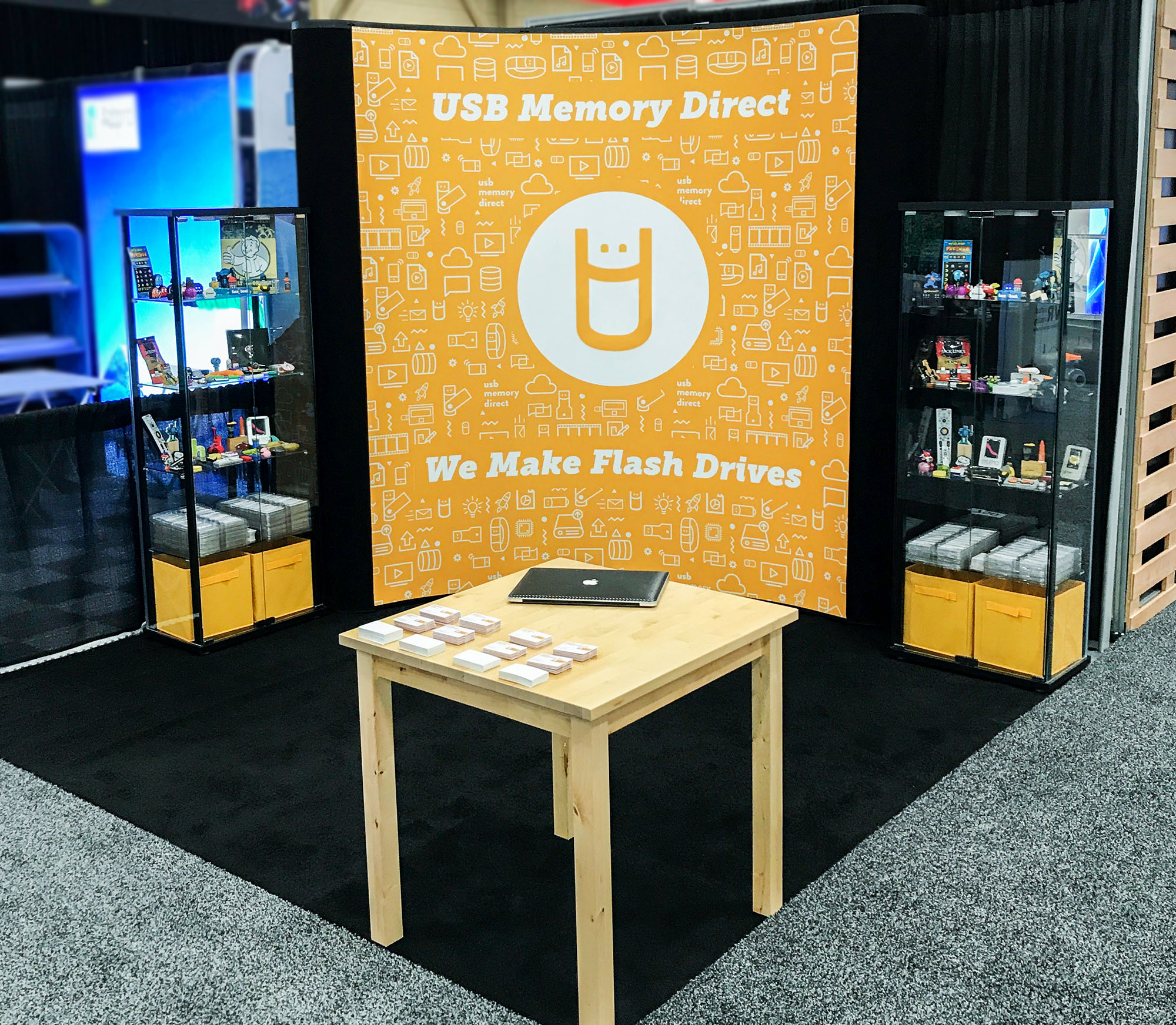 When planning for ExhibitorLive 2018, we chose to send only four staff members and picked a simple 10'x10' booth. The trick was to utilize every inch of space wisely. We knew that we wanted to have a cool setup that intrigued people who passed by, but too many things inside a 10'x10' booth will make it look cluttered. As you set up your booth, keep in mind that besides your display items, you still need room to fit your staff and attendees. The less space there is to walk around, the less inviting your booth will appear. You want to create a welcoming space where attendees want to walk into.
After trying a variety of different setups, we decide on a casual and simple placement. Towards the back of our booth, we designed a huge eye-catching USB Memory Direct sign with an orange hue and large bold font. We placed two intriguing glass cases on each side of the sign to showcase what we can do with our products. This is where we showed off some of our coolest fully custom shaped flash drives, like Jack Link's Jerky, Emjoi's, and many more. We also placed one small table towards the front of our booth to hold a laptop and our business cards. Every other setup took up too much room and made it difficult for people to walk around. We found that this setup not only made our booth look great, but it was as inviting and spacious as a 10' x 10' gets!
Choosing the Outfit
Something you may not give too much thought to is what you're going to wear at the show.
Outfit Highlights:
? Buck the trend--don't look like everyone else
? Make sure your staff is comfortable
? Represent your brand, again
You'll notice at trade shows most Exhibitors wear coordinating outfits. Many Exhibitors have their staff sport typical workday clothes or business styled suits. Though this gives off a professional persona, it, unfortunately, expresses the same professional persona as the other 300 exhibitors at the event. When you're dressed the same as every exhibitor, it's hard to catch someone's eye. Depending on what type of trade show it is will dictate where on the scale of fun and professional you should dress.

Our approach was to make our staff feel comfortable while still standing out. That's why we all wore our USB Memory Direct graphic-tees. Our outfits represented the serious yet fun approach of our brand. Wearing these shirts caught a lot of positive attention and was refreshing for attendees to see a group of exhibitors wearing different apparel from everyone else. The following days, many people remembered us for the bright outstanding orange color of our shirts.
It's important to note, that bright colored shirts don't always make you stand out in a positive fashion. In fact, unless it's a trade show for the performing arts, wearing attire that's too colorful or too casual may hurt you. The color and design of our tees worked for us because it helped create a unison connection between our booth and staff members. During the following days of ExhibitorLive 2018, many people remembered us for our shirts which presented us as both approachable and professional.
Body Language
Besides your clothing, you need to make sure that you're giving off friendly vibes and sporting a genuine smile.
Body Language Highlights:
? Smile, keep eye contact, and be friendly
? Never have your back face the trade show floor
? Don't huddle with fellow staff
? Limit phone usage to note-taking only
In all business settings, it's best to hold direct eye contact with the person you're talking to. However, in trade shows, it's important to make eye contact before engaging in conversation. When trying to catch someone's attention as they're walking by your booth, you're more likely to speak with them if you make eye contact and have friendly body language. People will certainly walk right past your booth if you're playing on your phone or have your back towards the trade show floor. Now if you were standing with good posture, smiling, and making direct eye contact, people will actually want to interact with you.

Something else that we employed was to stay spread out. We made sure to never huddle next to other employees. Staying spaced out around our exhibit and making sure our backs were never facing the trade show floor made us much more approachable than other exhibitors who rather play Candy Crush on their phones.
There are a few expectations when it comes to using phones at your booth. At ExhibitorLive 2018, we had to use an app on our cell phones to scan attendee's badges. Our rule, that every exhibitor should take seriously, was limiting the use of our phones. Unless an attendee specifically asked us to write something down, our staff did not take notes at the front of the booth. Once one of our staff members was done speaking to a potential client, they would take quick notes at the back of the booth so they wouldn't come off as unwelcoming.
A common modern-age human behavior is to play on your phone when you're bored. Whether it's a bad date, or a long elevator ride, seeing someone on their phone gives off a particular body language--a combination of "don't talk to me" and "I'm bored". If anyone passing your booth sees you on the phone, it makes you look like your not interested in engaging. However, just moving to the back of the booth doesn't mean you're safe. In our case, while one of our staff members were inputting notes on their phone, the rest of the staff were constantly paying attention to people passing by. Of course, that's if they weren't already speaking to someone. The moral is to never look as if you don't want to be there. In order to make a connection, you must always be present and ready to engage.
Tune in Next Time...
Trade shows can give you a huge increase in both brand awareness and sales. However, your booth is unlikely to succeed without taking the time to carefully plan. Whether you're a new exhibitor or are familiar with trade shows, it's always valuable to have some new insight on how you can improve your tactics. From picking the ideal spot, to creating a professional yet eye-catching setup and apparel, or even simply creating a welcoming atmosphere in your booth, each step is detrimental to achieving the reception you desire at a trade show.
Besides a great icebreaker, you also need to learn how to really catch an attendees attention through your conversation skills. Look out for our next article which will highlight the aspects of communication we emphasized at ExhibitorLive 2018!