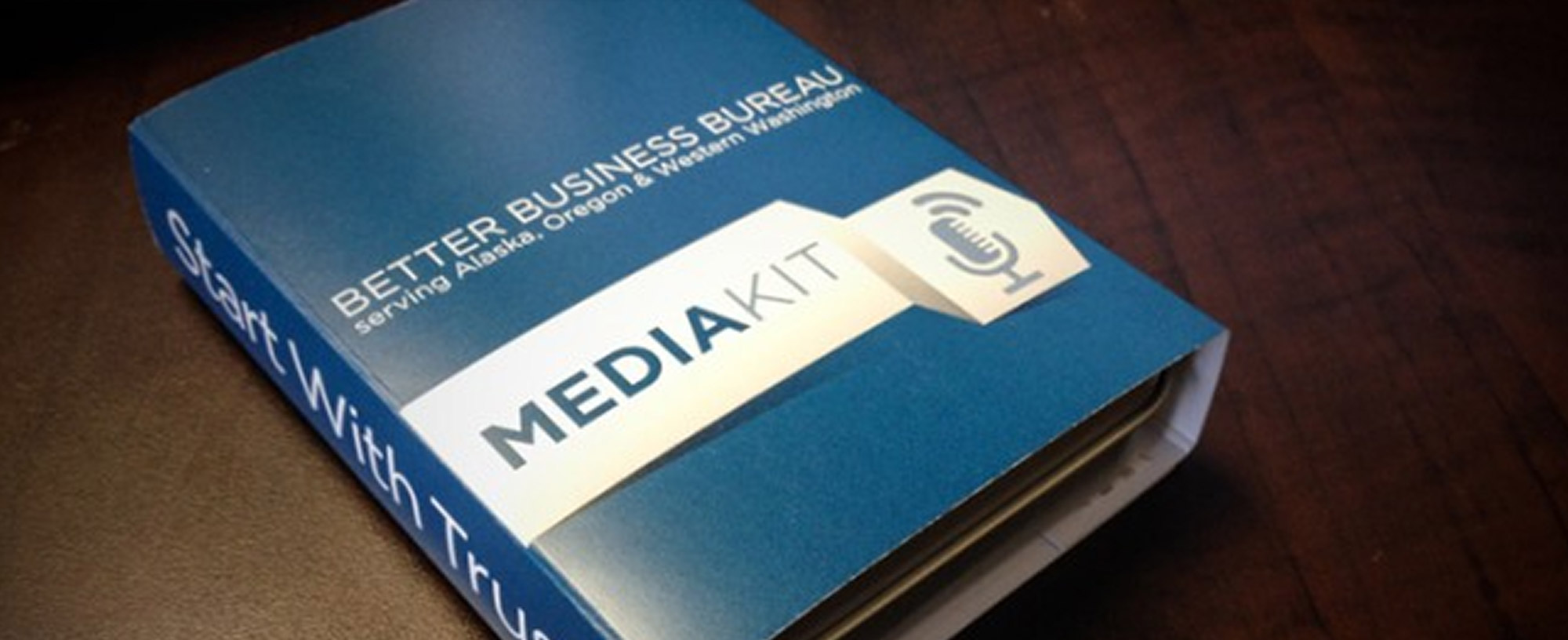 Interview with Kevin Jessee: Creative Director at Better Business Bureau (BBB)
Recently, we had the pleasure of interviewing Kevin Jessee, Creative Director at Better Business Bureau. Kevin worked with us on his latest outreach project, using usb flash drives to connect with media outlets in a fresh, unique way.
Over the last 100 years, Better Business Bureau (BBB) has been dedicated to fostering honest and responsive relationships between businesses and consumers, instilling consumer confidence and contributing to a trustworthy marketplace. With over 200 national partners and 112 independent organizations across North America, BBB is one of the nation's largest recognized leaders in developing and administering self-regulation programs for the business community.
With a deep background in design and marketing, Kevin's got all the bases covered for engaging media outlets about promoting good business practices and building a community of trustworthy businesses.
Here we discussed all things creative marketing with Kevin, including the challenges he's faced in the industry, the changes he's seen over the years in marketing, and the details on how and why he used custom usb drives for his current project.
Let's dig in:
Q: What led you to choose USB drives over other promotional products?
Our goal is to deliver a simple, easy to use method for all those involved in the media to receive information on BBB branding, videos, sound bites and other information about Better Business Bureau. We work closely with local media outlets to inform customers and business of the latest schemes, consumer trends, identity threats and security, encouraging best business practices, and creating a community of trustworthy businesses.
Choosing the USB and packaging it in a nice tin was one of the best options for us. Our information is important. A simple email with links to our branding and videos doesn't say enough of how important this information is. The sleek USB in a clean tin with our branding on it shows what we are giving is important, and valuable to all media outlets.
Q: How will you use your media kits?
The media kits will be delivered by hand and mail to our local media outlets (TV stations, radio, newspapers, magazines, etc.). On the USB will contain a media kit document with links to our branded material (BBB Seals, B-Roll footage, sound bites, etc.). Also, the media kit document will contain information about the Better Business Bureau, our mission, how we assist the customer, business and media.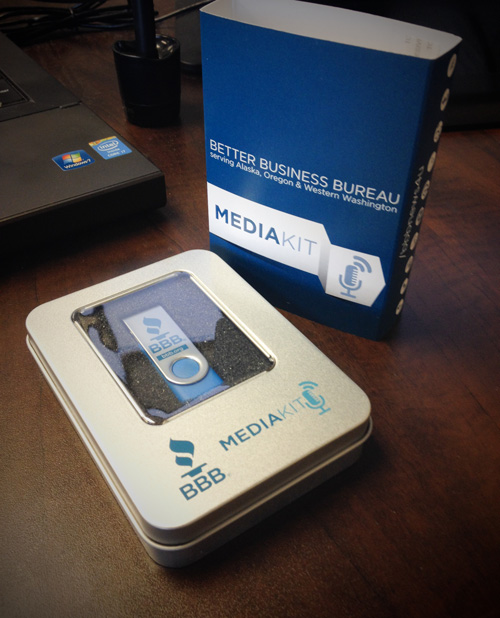 Q: Why do you feel it's important to have a physical media kit to connect with your audience?
It is important to have an engaging vehicle to deliver the messaging to consumers and businesses. Media outlets are a great way for us to reach out to the local communities to provide the latest news and information regarding marketplace trust. This kit will allow media groups to have access to our branding, and maintaining a consistent message nationwide. Misuse of BBB Seals or using old BBB logos can lead to confusion in the marketplace, and lessen the great value BBB offers.
Q: Who is the BBB's main target audience with this campaign?
For this particular campaign the main target is media outlets. However, we have plans to use this same style of messaging to target our Accredited Businesses and consumers. Using a USB would keep the costs of printing down; allow us to update the content without having to reissue a new printed piece or sending files.
Q: Internet marketing campaigns are easy to quantify. Every click is counted and a precise ROI can be calculated in the end. How do you plan to track the success of a campaign with your physical giveaways?
The content on the USB has live links. We can track how many times these links are selected and used. For example how many times our BBB seal is downloaded, or a video is viewed.
Q: What are your main goals as BBB's creative director?
The main goals as BBB's creative director is to present attractive, consistent and thoughtful brand messaging in all the creative presented to consumers and businesses. From our website, to videos, photography, and printed graphics, BBB has to show quality in its message and give meaning to the recipient. We even take part in various events throughout the year and this messaging needs to be consistent throughout.
Q: How do you think the creative process has changed in the time you've been in the marketing industry?
As a designer for over 20 years the process is still the same, but the messaging or how we get the message out is what has changed. A creative marketing solution always starts with a problem. For example how do we target audience off different ages? Or how do we promote our products and services to businesses of all sizes?
The creative process starts with identifying the problem or need. From there as a team we brainstorm the best solutions, sketch out ideas, discuss with vendors different options, analyze costs for various solutions, and then implement the appropriate solution to the creative problem. Whatever the solution, it has to fit within our brand messaging, be meaningful to the recipient, and have lasting impact to drive BBB's mission.
Q: What's a great example of a successful marketing campaign you've run at BBB in the past?
In my short time at BBB my role has been to revamp the creative side of how we market to consumers and businesses. Since October 2013 my very first project was to product an Accredited Business Kit. This kit includes all the information a newly Accredited Business would need to take full advantage of being a part of the Better Business Bureau.
BBB offers a wide variety of products and services to assist businesses of all sizes. We offer mediation services, online advertising with the business listing on bbb.org, verified customer reviews, webinars and events to promote businesses and marketplace trust, plus so much more.
This was a printed kit, however, I can see using a USB format similar to the media kit to further promote and expand the current AB kit. The AB kit has been received with open arms by businesses and BBB sales personnel alike by offering a format that is easy to follow and understand. Businesses can see up front all of the benefits of being accredited, and learn quickly how to use these benefits to grow their business.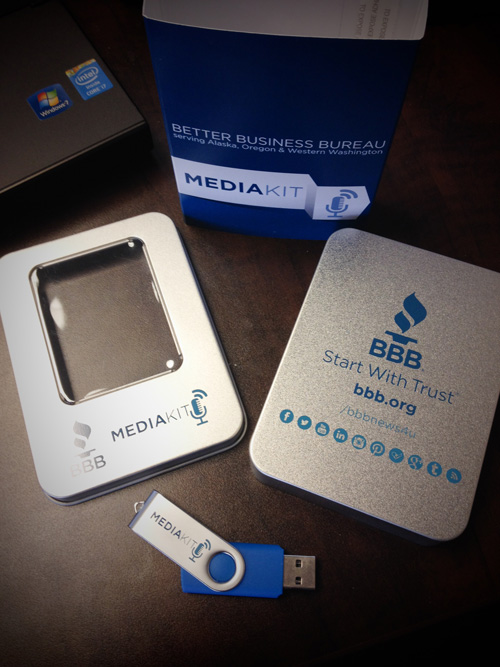 The Takeaway:
It was interesting to see Kevin highlight how email won't always accurately convey the importance of a branding and a marketing message. When it comes to making impressions, carefully designed, creative physical products always show more professionalism and value.
Kevin also mentioned how USB drives actually keep the costs of printing down. They could update the content on the drives without having to reissue a new printed piece. On the surface, usb drives might seem like the more expensive product, but with constant revisions to material and the countless amounts of files that are sent, having a physical storage unit for digital data becomes incredibly cost effective.
Working in the creative marketing industry ourselves, it was very humbling to learn more about Kevin's wisdom in the industry with over 20 years of experience.
We particularly liked how he explained the process of approaching a new project: Creative marketing solutions will always start with a problem. The creative process begins by identifying the problem or need, and then brainstorming possible solutions with your team.
Think about a problem you're currently facing at your company or business. How did you solve the issue? We'd love to hear your story and how usb drives became a part of that solution!