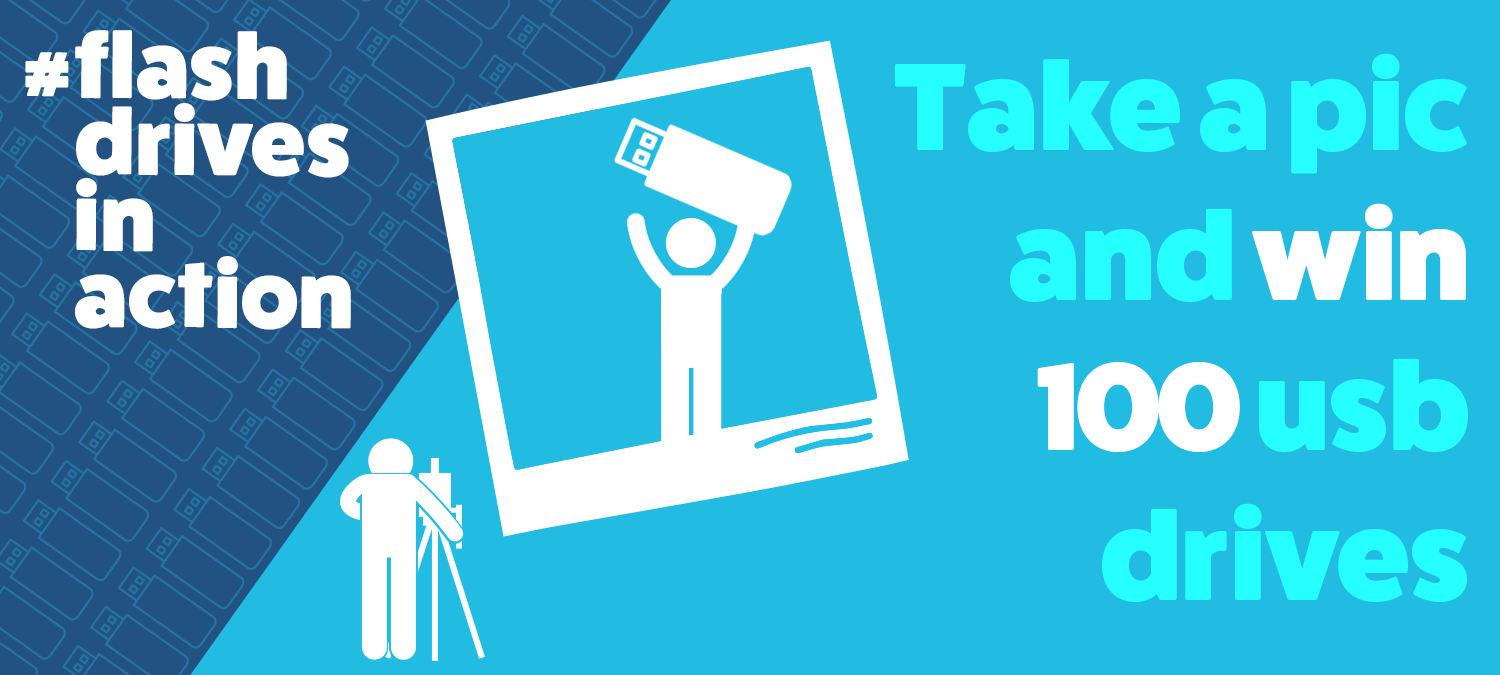 #FlashDrivesInAction Giveaway
Who doesn't like free stuff? Everyone does, including us! That's why we love hosting giveaways for our awesome customers. We are especially excited to announce our latest giveaway called #FlashDrivesInAction. This giveaway isn't like any other that we have had in the past, but rather an ongoing contest that all of our customers who have ordered flash drives from us can partake in. If you have a custom flash drive made by USB Memory Direct, we can ensure that you are the perfect fit for the opportunity to score a 100 free custom flash drives of your choice. Eager to win? Here's what you need to do.
Step 1: Snap a photo of your flash drives "in action" or in use
This shouldn't be a blurry photo you take of your flash drives while they're still in their delivery box, but rather a picture that truly represents how you or your company plan to use the drives. This could be at a trade show table, part of a gift package, or even with you on the go. The possibilities are truly endless. We want you to have fun taking the photos and see your creativity shine through the final image. Remember that you don't have to be a professional photographer to win. We are looking for pictures that are creative, and do not expect highly edited or photoshopped images. The more realistic they look, the better!
Step 2: Post the image on social media
Post the picture of your flash drives on LinkedIn, Twitter, or Instagram. Make sure to tag us (@usbmemorydirect) along with the hashtag #FlashDrivesInAction.
Step 3: Sit back, relax, and wait for us to announce you as the winner
At the end of each month, we will select our favorite entry. Not only will we give you free custom flash drives, but we will also mention you on our social media pages for all our followers to see. Holding the title of the #FlashDrivesInAction winner of the month is an honor that is worth bragging about.
So what are you waiting for? We want the winner to be you, so start taking pictures of your custom flash drives and tag us on LinkedIn, Twitter, or Instagram. We can wait to see your entry!
Terms & Conditions
#FlashDrivesInAction is an ongoing giveaway run by USB Memory Direct. To enter you must have ordered and have custom flash drives printed by USB Memory Direct. Currently, we are only taking entries from those who live in the United States of America. The winner will be able to choose from any of our wholesale flash drives, besides custom shaped drives. All 100 flash drives are 8GB and will be printed and shipped at no cost to the winner of the month. Entries must be posted on LinkedIn, Twitter, or Instagram by the last day of each month at 11:59 PM EST. To win the hashtag #FlashDrivesInAction must be included as well as tagging USB Memory Direct in the post. Winners will be chosen on the first business day of the month and will be contacted through a direct message on social media.