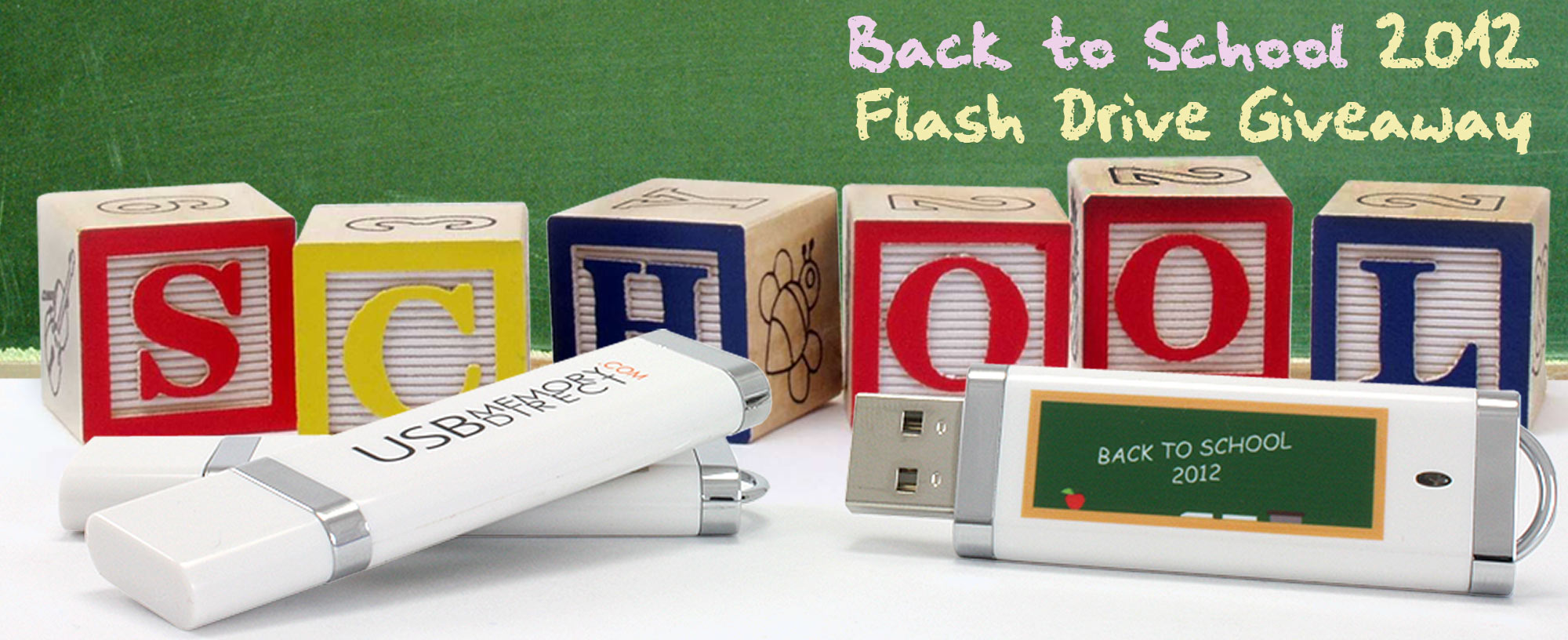 Flash Drive Giveaway for Back to School 2012
As teachers and administrators prepare to open schools in the coming weeks, kids are winding down and using the last moments of their summer vacation getting ready for new classmates, new teachers and harder homework. Moms are, at the same time, preparing for their own challenges.
Having kids of our own, we know just how the transition from summer fun to school rules can stress out kids and moms alike. You're probably already scheduling who's going to pick up and drop off the kids. You're researching after school programs, buying lunch foods, and picking up your child's school schedule. Then there are back-to-school clothes, pencils, paper, binders, backpacks, and other supplies you need to buy. Not to mention specific school supplies your child's teacher will require after the first day.
Free Flash Drive for Moms and Students
So we've decided to give moms a real break this year and offer something free that would not only make their lives a whole lot easier, but would also help their kids succeed academically in school, participate in rich and creative after school activities, and eat fun, healthy foods for lunch.
The Back to School 2012 Flash Drive Giveaway is a gift from USB Memory Direct to all the hardworking moms out there. If you've got a blog or a personal website, just mention our promotion somewhere on your page and we'll send you one of our Back to School 2012 Flash Drives! It's that easy. Just remember to post a link to where you mentioned us.
We will also be raffling an extra 100 USB drives to our fans on Facebook, Twitter, Google+ and Pinterest.
Just mention the Back to School 2012 Flash Drive Giveaway with a link to this page and you'll automatically be entered to win! Better your chances by sharing our giveaway on all three social networks.
But these free USB drives not only offer file and media storage, but something far more unique and useful to moms. We've also included a professional full-length eBook featuring 75 of the very best back-to-school tips and resources compiled from interviews with hundreds of childcare experts, teachers, aftercare professionals, and pro moms. We also read through thousands of blog posts, scoured Pinterest, and even pulled from our own experiences to give you a $60 Back to School Guide absolutely for free! Simply mention our promotion somewhere on your blog, Twitter, Facebook, or Pinterest account and we'll mail you one of our Back to School 2012 Flash Drives preloaded with our Back to School eBook for free! The new semester may be approaching fast, but this is just the thing to start the school year off right.
Back to School eBook
We've included three categories of article and tips:
25 Activities for After School
We've put together some great games for kids to play alone, with friends or with the parents. These extra-curricular activities will keep the kids entertained after school for weeks.
Example: Treasure Hunt
Supplies
5-10 index cards
Crayons
Small cardboard box
Prizes: stickers, chocolate kiss, small toy like a car, etc.
Directions
Write the name of a room in your house on each index card, let the little ones draw a picture of the room on the card.
Have them decorate a small cardboard box with crayons, stickers, felt, etc.
Put a prize for each child in the box and hide it in one of the rooms you made a card for, such as the bathroom. Hide the card for the bathroom in one of the other rooms with a corresponding card, such as the living room, then hide the card for the living room in one of the other rooms that you made a card for. Continue until you have one card left.
Give that card to the kiddos as the first clue and watch as they take off to find the cards in each room until they locate the treasure box. Be prepared to play over and over and over again!
25 Snack and Lunchbox Inspirations
For many moms, back to school means a return to making a lunch every day. But what to make that the kids will actually eat and enjoy? We've got tops for feeding picky eaters, fun school lunch recipes, menu ideas, and more.
Example: Peanut Butter and Granola Apple Sandwiches
Ingredients
2 apples, cored and cut into half inch slices
3 tbs any kind of nut butter
2 tbs chocolate chips
3 tbs granola
Directions
Spread nut butter on one apple slice and top with granola and chocolate chips before placing the other slice on top and pressing gently.
25 Homework Helper Tips
We have also put together some effective ways to help your kids succeed academically in the coming school year. These homework tips will have students doing their assignment better, faster, and smarter.
Example: Set up a Homework Folder
Establish a designated spot where your child will put homework assignments. They will put the assignments for that night in the folder at school, come home and complete the assignments, put them back in the folder, and return them to school. This will help ensure all homework assignments make it home, are easy to find, and make their way back to school.
We're sure this fantastic list of creative ways to take care of your children will work right from that first day of school. Sign Up Now to receive your free Back to School 2012 Flash Drive!
USB Flash Drives - A Back To School Must
At USB Memory Direct, we are constantly working to come up with newer and more innovative designs, to offer everyone the absolute best in promotional flash drives at an unbelievable price. Read on to see how back to school USB drives can benefit parents, teachers, and students in the coming academic school year. Where technology was considered mostly a novelty in the late 1990s, the dawn of the new millennium introduced desktops, laptops, iPads, and other electronic devices to even public schools. Just ask your kids about the role computer technology plays in their classroom. Children nowadays use computers in nearly every subject for their daily homework and projects a lot more than pencils and paper.
So what's on the top of the classroom supply list nowadays? Not paper, not pencils, but USB Drives. Once considered a luxury item, it's now considered a mainstream requirement for students of all ages - from computer beginners in elementary school to seasoned college students. Here are just a few of the reasons why you and your child will benefit Custom Flash Drives:
Universal Compatibility - You'll never have to worry about the type of computer system you school uses. Custom USB Drives are completely adaptable with Windows, Mac, and even Linux operating systems. This way, your kids can save their homework files from the classroom's computer, and easily print out the assignments at the school library or at home.
Super Portable - You and your kids no longer have to haul around 50 pounds of text books, homework assignments, field trip permission slips, and all the other papers they stuff in their backpacks. Why? A USB drive is basically a virtual version of the backpack. Your USB drive will do all the heavy lifting, making it easier for you to carry your kids stuff at home or around campus.
Ultra Durable - Our custom flash drives will outlive paper, pencils, markets, erasers, and backpacks included. USB Drives can reliably undergo thousands of write and erase cycles, meaning that they'll be sure to stick with you and your kids from one grade to the next.
Better Learning Experience - Every child has a unique learning style, and custom flash drives can help make their education a whole lot better. Teachers and Moms can preload custom USB drives with a wide selections of education software that operates like any portable application or with multimedia connections. For some children, a more active, visual experience could make a huge impact on improving grades.
Customize Your Own USB Drives
It is no surprise that for the kids of today, technology operation is just second nature. How many of those super cute YouTube videos have we already seen of babies playing with iPads? To reflect that their love of digital devices, you could try our extra custom shape drives feature.
Maybe you want to make sure that your child's USB drive doesn't accidentally get mixed up with those of other classmates, or maybe you just don't want them stuck with a regular, standard shape drive. Well with USB Memory Direct, you can add a small dose of originality with your custom USB drives.
For younger kids, this can add a new sense of fun to classroom learning when they have a school supply that they are proud of and value. Custom flash drives can also get kids more interested in homework assignments when they have a sense of pride and identity toward keeping it on their USB drive.
These flash drives take shape into everything from basketballs and USB airplanes to flip-flops and UFOs. A cool shape or concept like a USB wristband or USB lanyard could be all it takes to make the difference between using it every day and forgetting it at home. Students are just more likely to keep better track of a flash drive that boasts higher visibility with a unique shape or artwork. https://www.usbmemorydirect.com/products/airplane.htm
How Kids & Moms Can Use Wearable Flash Drives
Although a number of people can benefit from wearable USB drives, perhaps no other group can take advantage of them better than students, teachers and moms. Here are just a couple of cool ways you can sport some wearable flash drives.
On Your Wrist
USB Wristbands are ideal for kids of all ages. First, they capitalize on the youthful popularity of brightly colored rubber wristbands. Only when you look closer can you see a USB connector and cap in place of a bracelet clasp. This is a fantastic, proactive way to prevent the loss of digital homework that falls out of or to the bottom of a backpack. It's easy access and always at the forefront of their minds.
Around Your Neck
Lanyard USB Drives come in a variety of styles. More sport selections include custom shaped drives with the USB connecter integrated into the buckle area of a lanyard. On top of that, there is still room to add keys or badges to the key loop for additional function and comfort. Lanyard USB Drives are also great for teachers and administrators because since they are often required to carry keys to rooms or I.D. for security purposes around campuses.
Clip On Your Clothes
Utilizing the same fastening concept, Paper Clip USB Drives are small enough to blend in as a novel accessory attached to a shirt, jacket, tie, backpack or purse strap but durable enough to hold a small stack of papers. This adaptability makes custom shape clip USB drive equally important for kids, teachers and moms alike. Kids can attach them to their clothing for daily use or turn them in with presentation as supplemental work to their research papers and book reports.