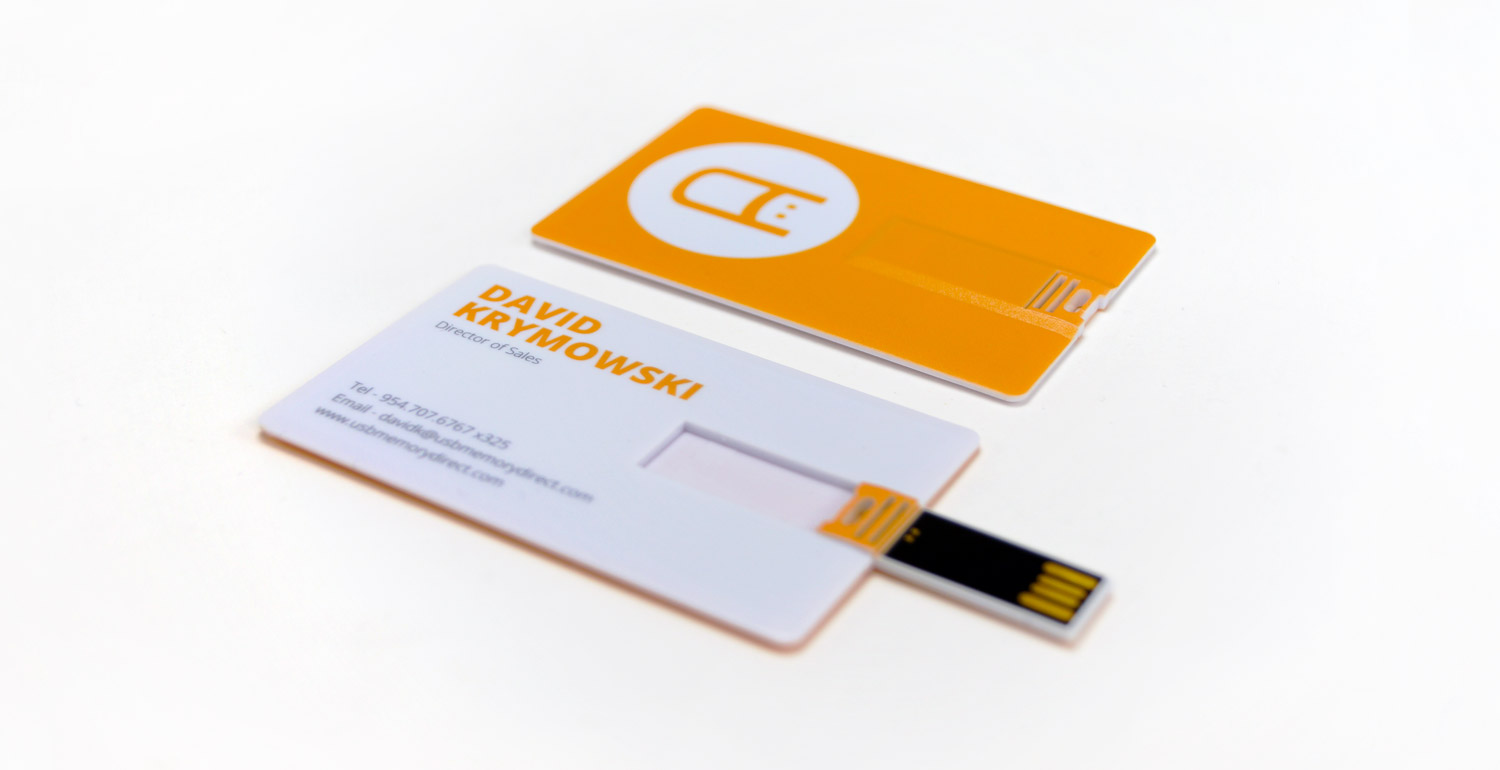 USB Memory Direct USB Business Cards
This time around we thought we'd share a little something about our company and how we incorporated our own products into our personal branding. As you probably know, creating a memorable brand is as difficult as it is rewarding. What is even more difficult is creating a cohesive line of marketing collateral: from notepads to stickers to business cards. We ultimately decided that the best way to promote ourselves was to "practice what we preach" and go the non-traditional route by using our own Card Flip flash drives as employee business cards.
Once we decided on the style, we moved onto the best part--the card design. We wanted our business cards to match our brand as closely as possible. This meant it had to be fun, energetic and include our signature UMD orange. We were lucky enough to have a printer in our office which gave us the creative freedom to test out multiple designs until we found the one that best represented us. Unfortunately, we found that this gave us a bit too much creative freedom as we soon realized that we had no idea what we should put on the tab itself. As the focal point of the card, it needed to embody us the most out of any other part of the card. Then we realized, nothing screams USB Memory Direct more than our company logo and office mascot, Ubie, on a background of bright, UMD orange.
We were thrilled to have a design created and ready to go, but we still had a few hurdles to jump before we got to our finished product. We eventually ran into some trouble with the tab design. As you can imagine, only getting orange print onto the tab without any overspray on the rest of the card proved to be harder than we thought. Luckily, our brilliant staff came up with an easy solution: print the tabs on blank, "dummy" drives and then remove them and put them onto the already printed business card drives. No overspray, no problem.
Overall, we're extremely happy with how our business cards turned out. We're proud to hand them out at events, and they never fail to interest and intrigue anyone who gets one. If you're interested in giving these usb business cards a try for yourself, just request a quote and we can get you started on creating your own custom business cards.