Cyber Monday Promotion - 25% OFF till December 2!
Get A Quote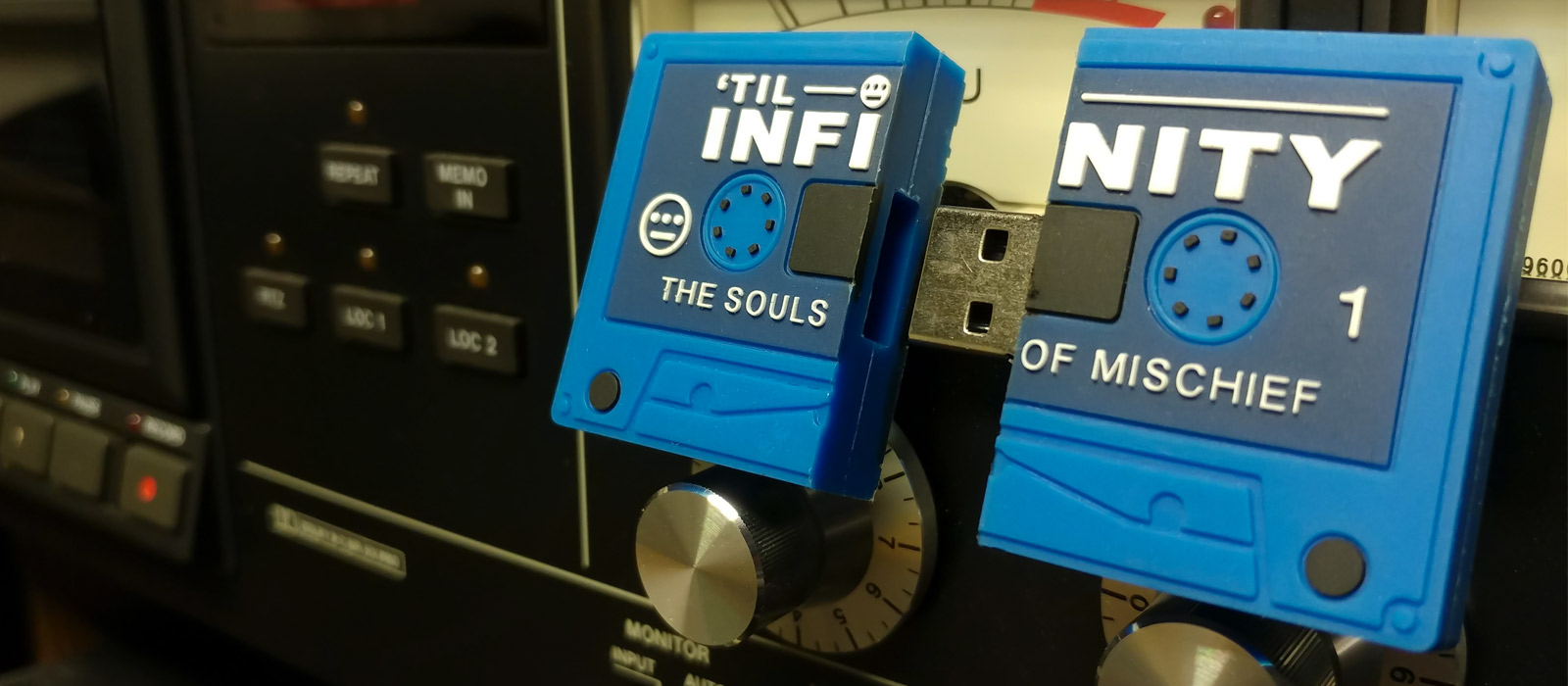 Til' Infinity Custom Cassette Flash Drives
Tags: customshapes |
Let's rewind to the 90s - a time where so many prominent hip-hop artists entered the music industry to share their melodies, lyrics, and talent with the world. One of the popular groups during this music era was The Souls of Mischief, who are also popularly known for joining the hip-hop collective Hieroglyphics. Group members A-Plus, Phesto, Opio, and Tajai, made their way to the spotlight with their album "93 Til Infinity" which landed them on many Top 100 music charts. Now 25 years later, the group's monumental album and legacy are remembered through the 2013 documentary "Til Infinity."
Shomari Smith, the film's director, editor, and producer, holds The Souls of Mischief close to his heart. Growing up in the same community as the group, he remains a huge fan and close friends with them. It wasn't until The Souls of Mischief asked him to film one of their shows years ago that Shomari had the idea to create a documentary. The footage, which was filmed over two years, focuses on the groups' various performances and includes 50 interviews from famous DJs, producers, and hip-hop legends like Ice Cube and Snoop Dogg. Shomari's final product is a 93-minute film dedicated to the celebration of The Souls of Mischief and their successful album.
After featuring the documentary at a variety of film festivals and receiving such great reception, Shomari decided he wanted to make the film available for purchase so that Hiero and soul fans could have a copy of their own. While in the past it may have been reasonable to sell the film on DVD, Shomari wanted to use a more up-to-date product.
I was looking for a unique way to distribute my film to the public and figured there weren't very many people with DVD or Blu-ray players at home anymore. There's the option of digital download online, but that doesn't give the customer an opportunity to connect with the product in the same way you can with something you can physically hold in your hand. I thought long and hard about ways to offer something that would be considered a collectible. I came up with the idea of offering the film on a USB but figured the USB had to be unique. I did a search online for companies that customize USBs and reached out to a few. I decided to work with USB Memory Direct because I really liked the work on their site and the account manager was very helpful with building my idea and quick to correspond. The price point was also very close to what I was looking to spend. When I started to show the mock-up design of my USB around the response was amazing. It was the perfect thing I needed to springboard the release of my film.

- Shomari Smith
With his awesome custom shaped flash drives, Shomari continues to tell The Souls of Mischief's story and have fans appreciate his work. You can get your own copy of "Til Infinity" featured on these cassette tape flash drives on the documentary's official website.