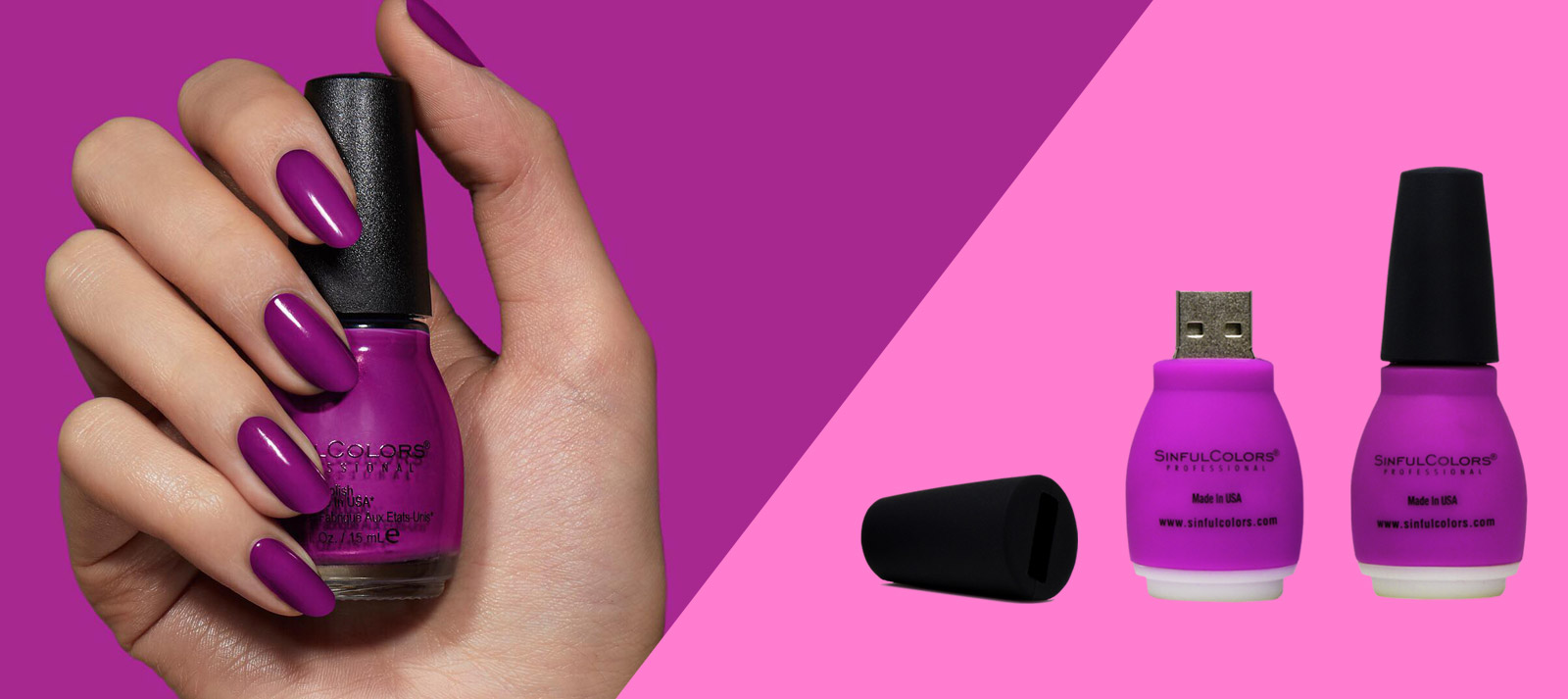 Sinful Colors Flash Drives
Tags: customshape |
Vibrant and bold are always two statements that are desirable in the cosmetic world. In the nail industry, extraordinary polish colors and designs are all the rave. The popular cosmetic brand Sinful Colors, stepped up their marketing game when they partnered with us. We were able to bring their luxurious nail polish bottle to USB life. Our mini polish drive looks identical to the original Sinful Colors bottle. It wouldn't surprise us if it finds its way onto cosmetic shelves instead of plugged into computers.
Sinful Colors wanted us to take one of their most popular colors Dream On, and create a custom USB drive in honor of it. The color itself is a stunning purple that is sure to wow anyone who sees it. After taking their request into careful consideration, we used our flash drive magic to create a stunning USB drive. We made Sinful Colors dreams come true once we showed them the final version of their nail polish flash drive.
So why did Sinful Colors love our USB replica of their product? That's simple! We focused on keeping the shape of the original Sinful Colors nail polish bottle. Instead of a hard glass body, our USB mini bottle is lightweight and made of rubber. This means you can drop it and not have to worry about cleaning a puddle of nail polish off the floor.
We also wanted to make sure Sinful Colors clients felt at ease using their custom flash drive. That's why we designed the top of the nail polish bottle to pull off smoothly, revealing the flash drive inside. While copying the chic look of the bottle, we promised to display the Sinful Colors' logo in the same font they use. It was also important to Sinful Colors to include the "Made in the USA" statement that's on their bottles to enforce their authenticity. An extra piece of text that we included towards the bottom of the USB bottle was the company's website. This way their clients will easily find out where to buy their products.
Professional style is extremely important when transforming clients products into flash drives. Not only do we want our final product to be as exact as it can be to our client's, but we also want to impress their consumers. One thing we know for sure is a product won't market well if it doesn't have a desirable and professional appeal. For both our sake and Sinful Colors, we are sure their mini USB nail polish is a must-have for any cosmetic enthusiast!