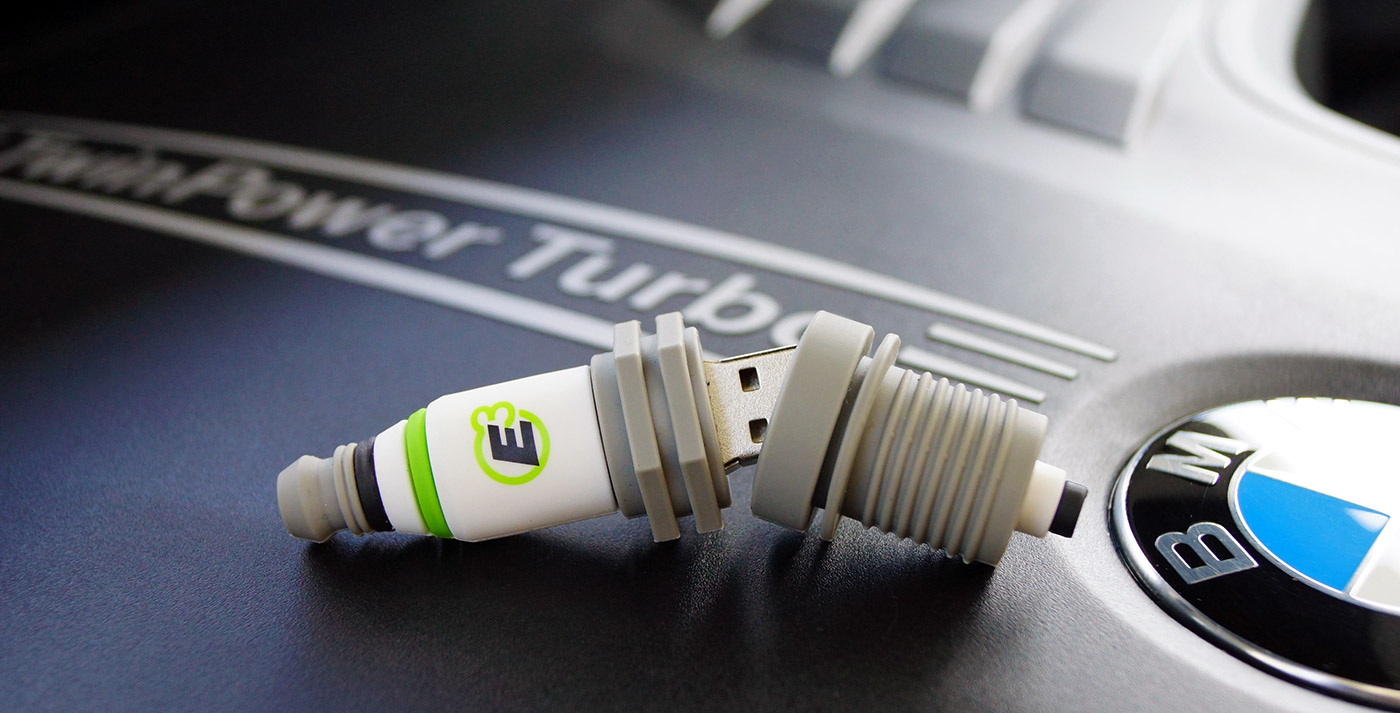 E3 Spark Plugs' Custom Shaped Drives
As a custom USB company, we have the pleasure of transforming some pretty awesome products into 3D wholesale flash drives. While we've designed all sorts of custom shapes, we had yet to design something as electrifying as the E3 Spark Plug. Besides weight, texture, and size; there is not much of a visual difference between the flash drive we made and the real spark plug.
E3 Spark Plugs specializes in producing a product that stands out over others. It uses more power than regular spark plugs and cuts 50% of toxic emissions. Also, this spark plug improves fuel efficiency and guarantees a longer engine life. By implementing their unique Diamond Fire Technology into each of their spark plugs, these high-powered devices quickly became a bestseller in automotive and home improvement stores across the country. As the star of their company, E3 knew they wanted to market their famous spark plug in a clever and fun way, which is why they came to us.
We immediately took one look at their stunning spark plug and transformed it into a rubber USB drive. Now you may be thinking, how similar could a replicated flash drive look compared to the real thing? Our answer is practically identical. Of course, the flash drive won't be an exact duplicate since it's not made of metal. It also doesn't contain enough electric energy to help start a car. Instead, this drive will help store data and give E3's spark plug a new promotional image.
At first glance, the E3 Spark Plug custom 3D flash drive doesn't appear to be a flash drive at all. That's what makes it incredible. When you hold this lightweight flash drive in your hand, you'll feel the riveted design that's identical to the original spark plug. From an outside point of view, it may seem that the flash drive doesn't come apart because of how flush the rubber exterior is. Believe it or not, the flash drive itself is actually located directly in the middle. With a pull of the cap, the USB E3 Spark Plug is ready to connect to your device and start fulfilling all your data storing needs.
Representing something as powerful as E3 Spark Plugs' product has been a pleasure. They had enough trust in us to help them market a product that is already so well received in the mechanical world. Using our creative skills to replicate a product that helps power cars, boats, and other equipment is an honor. We're excited to see what company we will have the pleasure of helping next with our custom shape service!