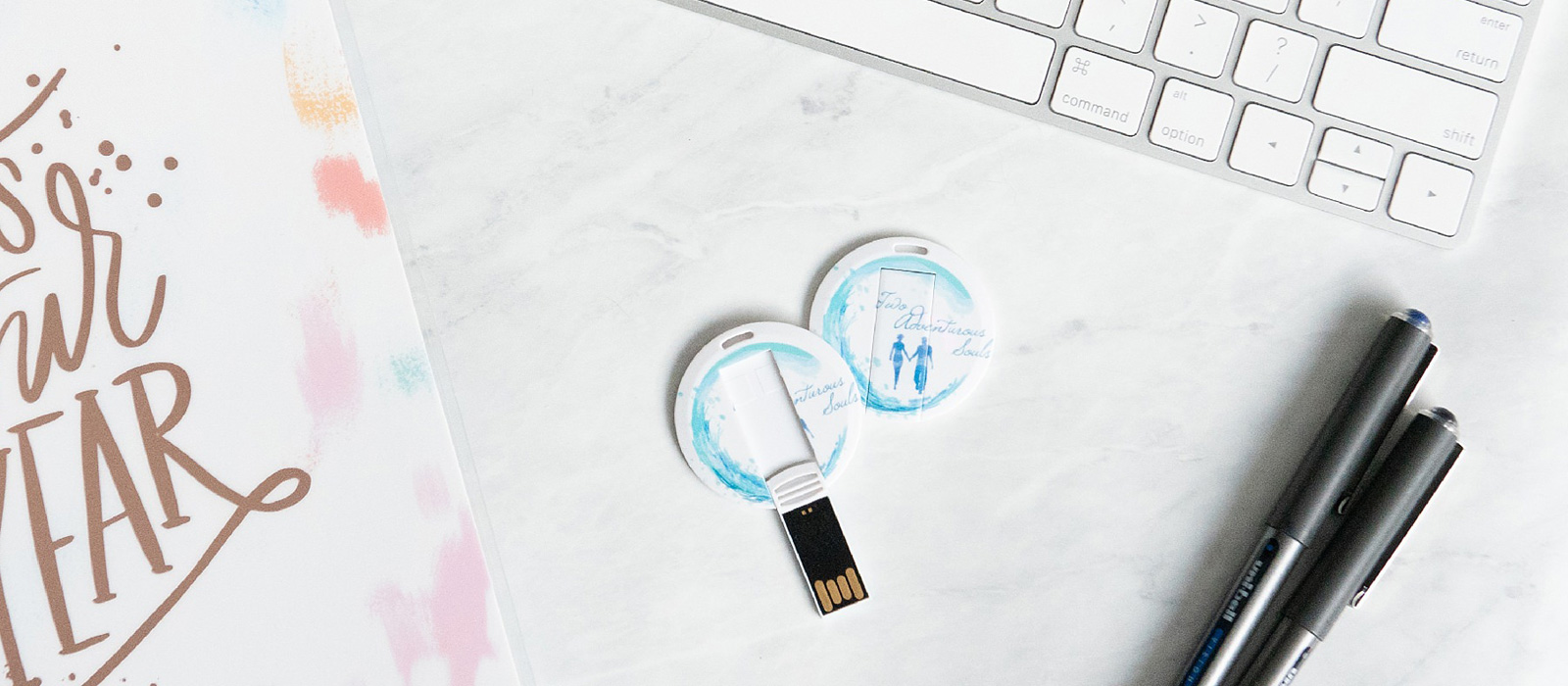 Two Adventurous Souls
Tags: photography,white |
It's not every day that you come across a round card flip flash drive. Most people who receive card style flash drives are impressed with how little they resemble an actual flash drive. The initial thought for most individuals when they hear the words "flash drive" is the classic stick style with a USB at the end. While many still love original style USBs, it's always fun to take a step on the adventurous side and try out a new style that better fits your clients and brand. That's why we consider a style like the round card flip, a golden poker chip in our large selection of USBs. Not to mention that its size and shape closely resembles a poker chip, making it a rich investment for any business.
One of our recent clients, Two Adventurous Souls, can vow for the valuable impression their custom card flip flash drives have made on their clients. This power duo started out working regular office jobs where they met and fell in love. As time went on, their job positions weren't fulfilling the adventure that they craved to have in their lifelong career. That's when they took a leap of faith and dove right into photography. Between traveling around the world, living in their hometown of Maine, and often going to their favorite destination Costa Rica, the couple spends the remainder of their time raising a beautiful family and growing their photography business.
As their client list continued to increase, Two Adventurous Souls' knew that they wanted to leave a memorable impression on each individual they worked with. That's when they came up with the idea to order a set of custom USB drives with their beautiful logo printed on them. Since their logo is circular, they decided a round flash drive would better suit their brand. That's when they came across our round card flip USB style, part of our USB business cards selection and were sold.
Once the flash drives arrived at their door, the couple couldn't wait to show them off. Two Adventurous Souls stated that "these ones (round card flip flash drives) from USB Memory Direct are pretty perfect - they fit our logo, they'll fit all your images, and there's a hole in the top of the card which is perfect for threading some on-brand colored ribbon through and tying it around our wedding thank you gift."
Two Adventurous Souls' round card flip flash drives lived up to their expectations. The couple couldn't imagine a better way to show their appreciation to their clients than with a USB drive to store all their beautiful photos on. Plus, the added benefit of having flash drives that are personalized for their brand is even better. Read more about Two Adventurous Souls' thoughts on their wholesale flash drives here, and make sure to follow their Instagram account to see their work.