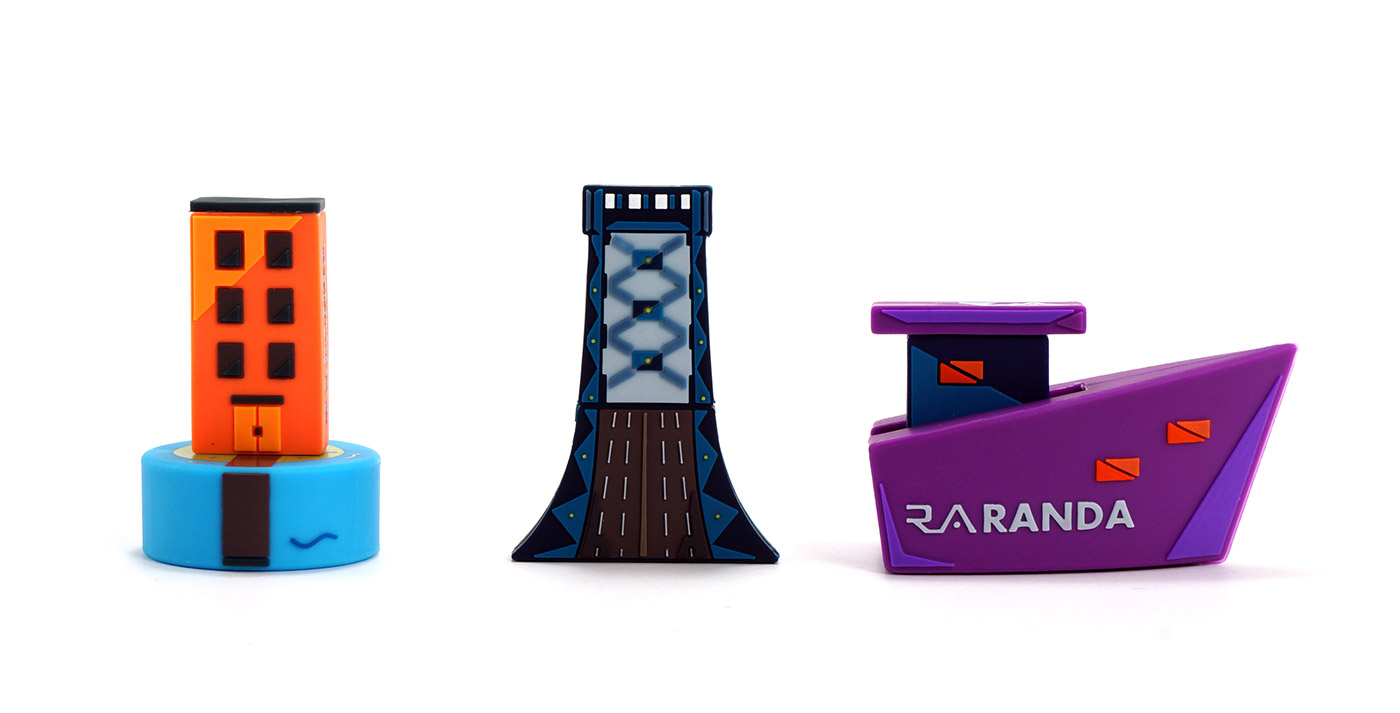 Randa Accessories
Tags: customshape |
Moats, boats, and bridges, oh my! We have to admit that "oh my" was our reaction when the very successful RANDA Accessories came to us with a proposition. They wanted us to transform their company roadmap philosophy into three different custom 3D flash drives. While we were more than excited to help, we wanted to know a little more about their interesting corporate strategy before we got to work.
While many have never heard of RANDA, they hold the title for being the world's largest men's accessory company. With over 4,000 employees in 23 global offices, many are shocked that they have never seen the name RANDA before. The reason why is because they distribute licensed products from popular brands such as Levi's, Tommy Hilfiger, and Champion, just to name a few. The chances are we've all looked at one of their products in stores. We probably even have some of their products sitting in our closet since they sell accessories ranging from belts, neckwear, jewelry, and even travel bags.
After learning more about RANDA, our next question was: what do moats, boats, and bridges have to do with accessories? For RANDA, the answer was simple. They started off by explaining to us a corporate problem they encountered once online shopping took off. They started to notice that their accessory sales were drastically declining, so they had to figure out a way to accommodate the change in consumers' path of purchase. That's where their new innovative roadmap came into place - Moats, Boats, & Bridges.
RANDA's strategy starts with Moats, which work to protect the core values and encourage employees to become better at what they do. This involves taking classes, joining online programs, or learning as much as possible. This tier also helps create barriers against the competition making it impossible for them to take the lead. Boats are simply transformational. Meaning RANDA wants to explore the unknown by seeking new skills, responsibilities, and products. Bridges hold adjoining strengths, opportunities, customer segments, channels of distribution, and products in place. It should encourage employees to move out of their comfort zone. As well as, gain skills in similar disciplines.
We were blown away by RANDA's creative strategy and got straight to work on making their roadmap a USB reality. RANDA was kind enough to provide us sample designs of their three-tiered strategy, making our job a lot easier. Once we sailed into product creation we made their moats, boats, and bridges stand at bay all on their own, of course with a flash drive inside each of them. With RANDA's name proudly featured on each custom shaped drive, the wholesale flash drives were ready to ship off to RANDA's associates as a reminder of their awesome corporate strategy.
Our collaboration with RANDA goes down as one of our favorite custom shape USB drives. We will always keep their moats, boats, and bridges philosophy in mind and loved helping bring their strategies to life with our custom shape service.