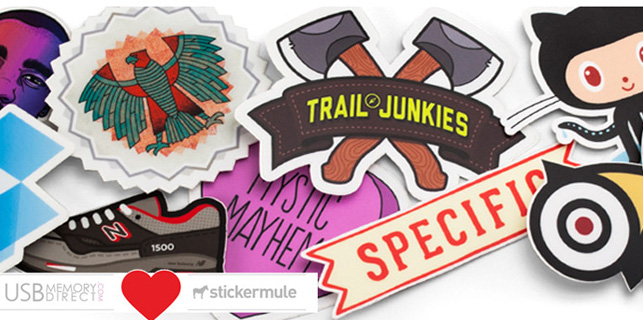 Announcing Our New Partnership with Stickermule
Looking back at 2013, we noticed quite a bit of our customers asking about complementing their personalized USB drives order with additional accessories and promotional swag.
So we really wanted to do something special for you in 2014.
Meet Stickermule.
Stickermule specializes in printing fun, irresistible customized stickers for startups, bloggers, artists, and businesses. With free UPS ground shipping and the super fast production methods, they've quickly become the top company in the world for promotional stickers.
We've teamed up with Stickermule to bring you exclusive special discounts on all our products. For example, you can visit www.stickermule.com this week and get 50 custom stickers for $29!
One of the best advantages of our partnership is that we can both focus on providing the custom products we do better than anyone else, while simultaneously offering our audiences additional top-of-the-line products and services.
"People are conditioned to think that the best deal is the lowest price. Actually, the best deal is the best value based on quality, service and price. It's about the whole package," - Alex Michaels, CEO of USB Memory Direct.
What does this mean for YOU?
We are committed to continuously improving the USB Memory Direct experience. Our partnership with Stickermule will give you access to exclusive rewards, specials, and discounts that are not available anywhere else.
It's a proud moment for everyone here at USB Memory Direct. Stay tuned, as we will be offering additional USB Memory Direct - Stickermule updates very soon!
About Stickermule
Stickermule.com is the world's largest provider of customized sticker services. For more information visit: www.stickermule.com.