Sleek Display Box
One of the things we pride ourselves in, is the variety of ways you can customize your flash drives, as well as the presentation and packaging of your drives. Recently, one of our more popular packaging choices, the small display box has gotten a makeover. Previously only available in a glossy white color, these boxes now also come with a stylish matte black finish.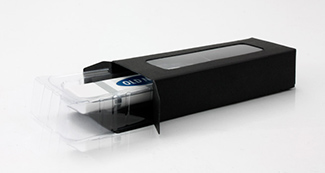 The sleek display box features a clear window to prominently display your USB drive with your custom printed logo front and center. This allows the flash drive to make an immediate impact on the recipient. The display box gives your promotional drive a more professional presentation than handing them out with keychains or lanyards which makes them an ideal choice for business to business marketing events.
Another advantage of these boxes are their size and weight. While larger tin boxes are excellent choices for packaging as well, their added size and weight can quickly add up when transporting or mailing out your drives. Despite it's lightweight design, these boxes will still protect your drives against dirt, light dings and scratches. All these reasons make the sleek display box the best option to keep your drives clean and safe during transport without breaking the bank for shipping costs, all while maintaining an attractive presentation to your custom flash drives.